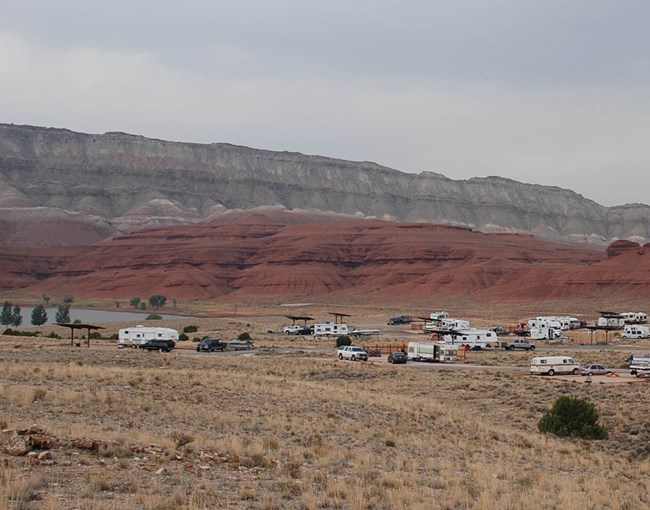 Uphill from the Horseshoe Bend Marina and picnic area, nestled in sagebrush and juniper woodland communities, the 48 campsites of the Horseshoe Bend Campground overlook the Bighorn Lake and the red sandstone cliffs of Sykes Mountain. The campground is located 14 miles north of Lovell, Wyoming via WY Hwy 37.

During the winter of 2007-08 Bighorn Canyon employees, using fee money, refurbished 19 sites to accommodate larger RVs and boats. Electrical and water hook-ups were added to theses sites. Eight of the improved sites have wind fences. The remaining 28 sites were left unchanged and are a perfect fit for small RVs or tents.
All vehicles are still required to obtain a valid entrance pass as they enter the park. To pay for the campground fee, Iron Rangers, a device designed to allow self payment of fees, are located near the bathrooms in each loop of the campground. Fee envelopes are available at the Iron Rangers to deposit your cash or checks for payment of the campground fee. Checks should be made out to the National Park Service. A flap on the envelope will tear off for placement on the clip at the camping site. Camp sites cannot be reserved and are available on a first-come, first-served basis.

The Senior Passport, and the Access Passport, will give you free entrance into Bighorn Canyon, and are accepted to discount the campground fee.