Fishing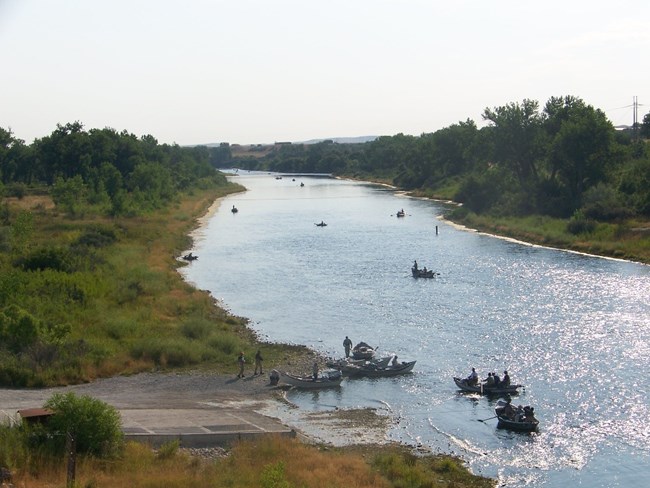 Whether you choose to fish from a boat or the shoreline, the waters of Bighorn Lake and the Bighorn River truly offer an incredible opportunity to catch numerous species of fish while being surrounded by some of the most beautiful outdoor scenery in the northwest United States.
Bighorn Lake - Walleye, brown and rainbow trout, yellow perch, carp, catfish, ling and crappie are among the fish sought by those plying the waters of Bighorn Lake.
Afterbay - This unique section of water is located between the Yellowtail Dam and the Bighorn River. The Afterbay's main species is rainbow trout.
Bighorn River -Trout are the sought after prize of those fishing the renowned waters of the Bighorn River. Keep in mind though, the river is quite diverse. 38 different species of fish have been caught on its waters.

Learn more about the types of fish located within the Bighorn Canyon National Recreation area.
Licenses
There is not an additional license required to fish within the park boundaries, however a state license is required. Since this park is on the boarder of two states please make sure you know where you are fishing at and which license is required.
Montana License
Wyoming License

Fishing Regulations
There are no additional regulations for fishing within the park boundaries, however all State regulations apply. Since this park is on the boarder of two states please make sure you know where you are fishing at and which regulations apply.
Montana Regulations
Wyoming Regulations
Boat Fishing
Bighorn Lake is over 70 miles in length and provides thousands of acres of wonderful boat fishing. The lake is between 70 and 450 feet deep in the Montana end. The Wyoming end is 70 feet deep at the state line, 30 feet deep in Horseshoe Bend, gradually becoming shallower going south. South of the causeway at Highway 14A, the river channel expands onto the flats at full lake.
There are several ways to fish this lake:
trolling using crankbaits, bottom bouncers, spinners and planer boards
casting using crankbaits, worms, spinners and plastic jigs
jigging using weighted jigs tipped with a minnow, crawfish, leech, cut bait or artificial/plastic bait
You may want to use an electric trolling motor for jigging to keep your boat on the "hot" fishing spot. The use of a small gas outboard motor is useful for trolling and as backup should your main motor fail.
Shore Fishing
The Wyoming end of the lake has over 50 miles of accessible shore line including the Yellowtail Wildlife Unit. These shore lines are close to nearby roads. Thye also have ample driftwood for shore line evening fires if needed. Please check about any fire restrictions that may be in effect during high fire danger periods. There is limited shore fishing in the Montana end of Bighorn Lake.
When shore fishing on the bottom of the lake a heavy fishing pole rigged with 20 pound plus line is best. Bait can be:
minnows
crawfish
worms
cut bait
artificial bait and plastics
When bait casting use a lighter rig with spinners, crankbaits, minnows, worms and artificial baits.

During the warmer months please be aware that rattlesnakes and scorpions occupy the area and take proper precautions. Please remove all trash when you leave your shore fishing area.
Fish Consumption Advisories in National Park Waters
The Environmental Protection Agency, states, territories, and tribes provide advice on fish and shellfish caught in the waters in their jurisdiction to help people make informed decisions about eating fish. Advisories are recommendations to limit your consumption of, or avoid eating entirely, certain species of fish or shellfish from specific bodies of water due to chemical or biological contamination.

Fish is part of a healthy balanced diet, but eating wild fish and shellfish caught in park waters is not risk free. Parks are "islands", but the much larger "ocean" that surrounds them affects the natural resources inside a park. Other aquatic toxins are the result of natural biological processes. Also, chemical contaminants that originate outside of park boundaries can come into parks.

Mercury is an example of a toxin originating outside a park that can find its way into a park. Mercury exists naturally in some rocks, including coal. When power plants burn coal, mercury can travel in the air long distances before falling to the ground, usually in low concentrations. Once on the ground, microorganisms can change this elemental mercury to methyl mercury. This type of mercury can build up in animal tissues, and it can increase in concentration to harmful levels. This high concentration can occur in large predatory fish - those often pursued and eaten by anglers. Studies have shown that fish in some National Park System waters have mercury levels that may be a concern to people who regularly eat a lot of fish.
Aquatic Invasive Species
Imagine your favorite fishing spot and the wonderful memories. Things may look fine but underneath the surface there is a serious threat. Everything you remembered is now cemented together in a sharp, smelly mess. Invaders have wiped out the fish species you used to catch.

Aquatic invasive species are not native to an ecosystem. Their introduction causes, or is likely to cause, harm to the economy, the environment, or to human health. Aquatic invasive species are a growing risk to parks and their values. In the United States alone, there are more than 250 non-native aquatic species.

For many centuries, humans have contributed to spreading non-native species around the globe. You can make a difference.
How You Can Help – Stop Aquatic Hitchhikers
All boats entering the waters of Bighorn Lake or Bighorn River MUST go through an AIS checkpoint and have a valid inspection sheet. There are inspections stations located at Crooked Creek Contact station in the South District outside of Lovell, WY and at Garrison Stoker outside of Fort Smith, MT near the North District.
Fishing Throughout the National Park Service
We invite you to visit the fish and fishing website for more information about fish and fishing in the National Park Service. You will learn about conservation, different fish species, and parks that offer fishing.
Last updated: August 24, 2021