Bighorn Lake in Wyoming & Montana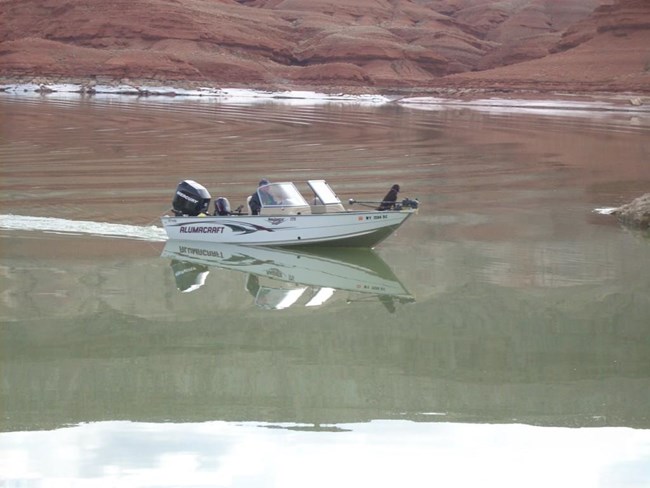 Whether you choose to fish from a boat or from the shoreline, Bighorn Lake provides abundant opportunities to catch numerous species of fish while being surrounded by some of the most beautiful outdoor scenery in the northwest United States. The information given below will give you a good idea of the opportunities for fishing either from the shoreline or a boat.

For general fishing information including rules and regulations see the fishing page.
Things to Remember
Remember when in the canyon portion stay with your boat if you have engine trouble; do not try to climb the canyon walls to get help. Most of the shore line in the southern portion of the lake is suitable for beaching your boat if needed.
Some fishermen like to use an anchor or windsock to keep the boat in position when fishing the south portion of Bighorn Lake. Small boats or jet boats work well south of the causeway in the shallow water and the river channel. These can be launched from the Kane, South Causeway and ML ramps except during the ice period.
Horseshoe Bend Fishing Dock
At Horseshoe Bend beach is a large floating fishing dock that has pole holders, benches and a handicap ramp. This is a great place to fish for all the species of fish in the lake. One can drive right up to the walkway in your vehicle for easy access. The catching is usually good from this dock!
Pond Fishing
The Yellowtail Unit has ponds for fishing too. Pond 5 and Cemetery pond provide shore and small boat or canoe fishing. You can catch large mouth bass and trout in Pond 5. Cemetery pond provides bullhead, crayfish and cat fishing.
Fishing For Carp
The large carp population in Bighorn Lake and the other ponds provides a great opportunity for bow and fly fishing. This can be done by wadding in the shallows or with a push boat setup. Carp are a supreme fly-rod challenge equal to or excelling trout or bone fish according to many fly fishing magazines. Each year many carp fly fishing tournaments are held with the number of fishermen competing increasing!
Game Fish To Be Caught
Lake Trout
Brown Trout
Rainbow Trout
Channel Cat
Ling
Smallmouth Bass
Black Crappie
Yellow Perch
Walleye
Sauger
Bullhead
Shovelnose Sturgeon
Learn more about the types of fish located within the Bighorn Canyon National Recreation area.
Ice Fishing
Ice fishing at Bighorn Lake is an over 40 year winter tradition for many families in Wyoming and Montana. You will find groups all over the South District, from Crooked Creek Bay to Horseshoe Bend, all the way down to the east shore areas off the John Blue Canyon road. Learn more about ice fishing.
Last updated: February 23, 2020