Bighorn River in Montana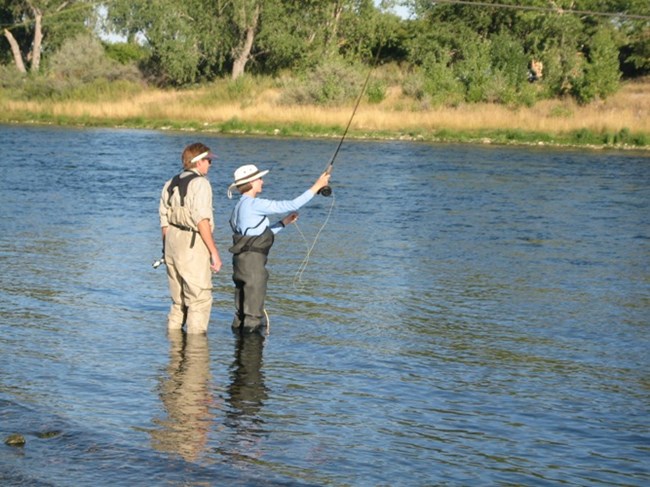 Bighorn River - Montana
Open to the public since 1981, the Bighorn River is one of the finest trout streams in the United States. The Yellowtail Dam created a classic tail water fishery that is cold and clear in the summer and ice free in the winter. Rainbow and brown trout are prevalent. Public access to the Bighorn River is limited to three points on the upper 13 miles of the river: Afterbay, 3 Mile (Lind Ranch) and 13 Mile (Bighorn Access). Fisherman can float and wade the waters of the Bighorn, but are required to stay below the high water mark.
The Bighorn is a gentle cool, clear water river. Though not a challenge to rafters or other whitewater enthusiasts, it does demand the attention of those who use the river. The loose rocky bottom is lined with mosses and aquatic vegetation making it slippery and quite deceptive, presenting an illusion of shallow water where it may be over ten deep.
Water currents are much swifter than they appear on the surface. There are numerous short runs or rapids which are easily negotiable by raft, canoe, kayak, or any other type of watercraft, even to the novice floater. Boats with motors are prohibited on this upper thirteen miles of the Bighorn.
The river banks are lined with willow thickets, stands of cottonwood trees, ash, and numerous shrubs.
The land above the high water line is almost entirely in private ownership and is not open to the public. Respect landowner rights!
Do's and Don'ts - While Fishing the Bighorn
Since trout populations depend primarily on natural reproduction, environmental factors are important to their well being. Please follow the guidelines listed below to have an enjoyable experience and protect this blue ribbon stream!
Net your trout carefully and release all immediately after a short playing time while making sure that all trout have fully recovered after being played.
Remove barbs from all large hooks and avoid hooks on San Juan worms larger than #10.
DO NOT walk on gravel bed, during and immediately after trout are on spawn beds. During spawning, fish are stressed to their physical limits and anglers are asked not to work their flys over redds where trout are engaged in the egg laying process.
Under no circumstances should you kick loose gravel above good fish lies. This destroys prime insect habitat.
Do not crowd anglers who are working backs or have established themselves on runs, especially if casting over rising fish. FORTY yards is the appropriate distance.
If the river is crowded and the fishing is good, establish a time and set number of fish you catch and then move to a new area.
Remember that no owns the river and we are all responsible for good conduct while on this blue ribbon stream.
Rental boats are sometimes a problem on the river. Check carefully with your shop about what is expected from you. After completing your trip make sure you dock well away from access areas.
It is your responsibility to know and understand the fishing regulations on the Bighorn River and surrounding areas (Afterbay Reservoir and Bighorn Lake). If you are unsure about a regulation or fishing practice, ask a Park Ranger or reference the fishing page for links to current regulations.
Bighorn River Etiquette - Respect and Enjoy

Because of the increasing number of boats and wading fisherman, observation of the unwritten, local customs will help you and other fishermen have an enjoyable day.

Always respect the area wading fishermen are walking and give them a wide berth. They have the right away.

When approaching bank fishermen while boating, notice how far out their lines are and stay clear.

While floating, if there is another boat nearby, try to stay out of his area. Also, when passing a boat moving slower than yours, move out of his line of drift and go downstream 200-300 yards before coming back into his line of drift.

The Bighorn River is one of the most heavily fished streams in Montana. If fishermen are courteous and have a relaxed attitude the river will continue to offer a superb angling experience.
History
Fifty years ago the Bighorn was a wild river. Water levels fluctuated drastically with snow melt and rain storms in the Bighorn and Pryor Mountains. Water temperatures could vary from freezing to tepid within a few days. The Bighorn-Wind-Shoshone drainage was laden with tons of sand, silt and gravel. These sediments rendered the Bighorn River unsuitable for a trout fishery.
Fort C.F. Smith was built in 1866 on the south side of the Bighorn just downstream from the present site of Afterbay Dam. The fort provided limited protection for travelers on the Bozeman Trail.
One hundred years later, the Yellowtail Dam was completed providing irrigation water and flood control. Relatively stable water releases and temperatures and sediment deposition in Bighorn Lake allowed an additional benefit: an ideal trout habitat. The Bighorn River has since developed into a "World Class" blue ribbon trout fishery/
Fishing
Please reference the main fishing page for links to current regulations.

The most frequently caught fish are the brown trout. Rainbow trout are highly prized but relatively scarce. Fish limits are quite restrictive in order to preserve a quality fishery. The majority of fish are released back into the stream by sport fishermen. The most popular method of fishing here is with artificial flies. Spinners are allowed, but bait, worms and minnows are restricted to the first 200 yards immediately below the Afterbay Dam. A sizeable population of carp is in the river. In the fall, shad, a silvery, flat sided, large scaled fish spawn in the Bighorn. Though neither are sought after by anglers, they can be interesting to catch.
Trout can be caught anywhere regardless of current or stream depth. Dry and wet flies are used year round. Fine trout can be taken at any time of year, even during a snowstorm. Though many different patterns of fly will take fish, some are more popular and productive. Here are a few of each type:
Dry: Midges (dark), sizes 16-22 or as small as can be managed, work well as midge hatches occur at any time of the year. The Adams, sizes 16-22, as well as the Blue Dun will produce well when any surface feeding is observed.
Wet: Numerous nymph patterns will take fish. Scud (freshwater shrimp), San Juan Worm, Hares Ear, Muddler Minnows, Pheasant Tail Nymph, and the Zug Bug work well.
Streamers: The Bighorn Special, Wooly Buggers, Dirty Red or Yellow, and others will do the job particularly in the cool winter months.
Grasshoppers: Various grasshopper patterns produce well at times, fished wet or dry.
Learn more about the types of fish located within the Bighorn Canyon National Recreation area.
River Access
Due to Crow Tribal and private land ownership, access to the Bighorn is very limited. The National Park Service maintains public parking and launching facilities at the Afterbay Dam (River Launch) and the 3 mile (Lind) access downstream. The state of Montana maintains the Bighorn Access thirteen miles downstream.
Most anglers drift the river, stopping along the way and fishing likely spots. The river can be waded, as long as you remain below the high water mark, below where terrestrial vegetation ceases. Limited shoreline access exists at the above access points. Trespassing on Crow Tribal or private lands can result in a citation and fines which would spoil your experience on the Bighorn.
Last updated: February 23, 2020