Fishing the Afterbay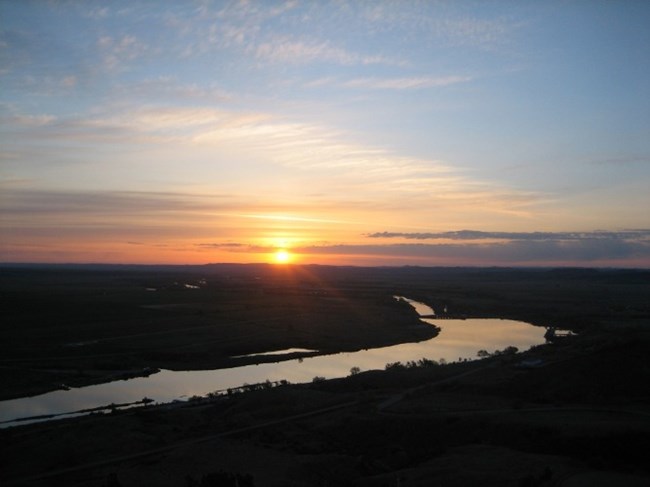 As the Yellowtail Dam generates power, the water is collected in the Afterbay reservoir. The intent is to preserve a constant flow of the Bighorn River for fish and wildlife habitat. The Afterbay is 181 acres in size and is often used by anglers for shoreline and motor boat fishing. Please read the following information to help you have an enjoyable experience on the Afterbay.
Fishing
The Afterbay's main species is rainbow trout. Some of the best places to shoreline fish include: the buoy line at the Afterbay Dam, close to the campgrounds, and around the Historic Big Horn Headgate. Keep in mind:
Bait fishing is allowed
Bow fishing is allowed outside of campgrounds
No warm water stamp is required
Fish limits: 5 trout combined (no size limit)
Learn more about the types of fish located within the Bighorn Canyon National Recreation area.
Note: This page does not provide the fishing regulations. For fishing and boating regulations please see the main fishing page.
Boating
There is a boat launch on the south side of the Afterbay. Motor boating is allowed on the reservoir with the exception of the area closest to Yellowtail Dam (beyond the orange log boom near the historic Bighorn Head Gate). Restricted areas are also identified and delineated by signs or boat restraining systems.

Caution: Keep in mind that the water in the Afterbay can fluctuate up to 15 feet. Instances have occurred where boats have been beached and overturned due to daily fluctuations.
Camping
There are two campgrounds at the Afterbay, one on the south side with 24 spaces and another on the north side with 12 spaces. There is also hard sided camping only in the parking lot of the Afterbay Boat launch.
Swimming
Do not swim in the Afterbay! Though the reservoir does not freeze, the water temperature rarely gets warmer then the mid-40s, even wading in these waters can be treacherous.
Last updated: August 24, 2021