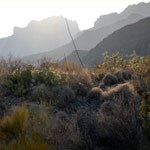 Persimmon Gap
As the northern gateway to the park, many visitors pass by Persimmon Gap as they enter Big Bend. A visitor center and picnic area are located at the gap.
Along the road from Panther Junction to Persimmon Gap are a number of roadside exhibits, including the Fossil Discovery Exhibit area. The 14-mile Dagger Flat Auto Trail provides a scenic exploration of the desert environment, ending in a forest of Giant Dagger Yuccas; this dirt road requires 4-wheel drive.
Day hikes in this part of the park include the routes to Dog Canyon and Devil's Den, as well as a primitive trail up Persimmon Gap Draw towards Persimmon Peak.

The Fossil Discovery Exhibit is an open-air museum located between Persimmon Gap and Panther Junction. For more information visit fossildiscoveryexhibit.com.