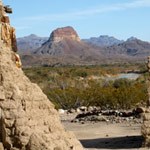 Castolon Historic District
The west side of the park offers stunning desert views and opportunities to explore the history of the region. The Castolon Historic District provides a glimpse into Big Bend's complex past through exhibits and historic adobe buildings.
The Castolon Historic District has a visitor center (open seasonally), and the historic La Harmonia Store (in the same building) offers a full range of supplies, and is open year round. Cottonwood campground, located nearby, provides a quiet, riverside camping experience. Picnic tables are located at La Harmonia Store, Cottonwood Campground, and the Santa Elena Trailhead.
The Ross Maxwell Scenic Drive anchors this part of the park and provides access to numerous hikes and scenic overlooks. At the end of the paved road is Santa Elena Canyon, one of the most famous landmarks of Big Bend; a short trail leads into the canyon.