Castolon Historic District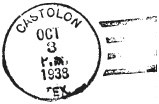 For most people, the Castolon area is a place to stop on the way to the spectacular Santa Elena Canyon. But for those who take the time, it can be a great place to explore the human history of Big Bend. Castolon is certainly not the only area in the park that is historically significant, but it is perhaps the most intact. A trip to Castolon is, in many ways, a journey back in time, albeit to a time not too long ago. Castolon's history is really not that "old"—farming and ranching continued in the area until 1961. The Castolon Historic District is listed on the National Register of Historic Places.
---
To Learn More
Casey, Clifford B. Soldiers, Ranchers, and Miners in the Big Bend. Washington, D.C.: National Park Service Division of History, Office of Archeology and Historic Preservation, 1969.
Tanner, Susan L. "From Castolon to Santa Elena: The People Behind the Ruins." The Journal of Big Bend Studies. Volume 5; January 1993, pages 99-114.
Elam, Earl H. "Big Bend Archives: The Big Bend Military District and Colonel James J. Hornbrook's Recruiting Announcement." The Journal of Big Bend Studies. Volume 2; January 1990, pages 117-122.


Last updated: August 13, 2020