Soak in the Hot Spring

The
Hot Springs Historic District preserves a rich history
of human occupation from thousands of years ago to the not-so-distant past. Visitors can study rock art left behind on the limestone cliffs, picture farms of corn, squash, and beans along the river's floodplain, or imagine what it would have been like to meet at the Hot Springs Post Office in the early 1900s to collect your mail each Monday.
J.O. Langford's impressive bathhouse is long gone; today the spring is contained by the foundation remains of the bathhouse, on the north bank of the Rio Grande. Relish a primitive bathing experience while enjoying unparalleled scenery.
Hot Springs Road
The two-mile gravel road descends down a rough, narrow wash to the Hot Springs Historic District and trailhead area.
Note: Motor homes and oversize vehicles are prohibited on the one-way sections of the Hot Springs road.
Hiking to the Hot Spring
From the trailhead, the hot spring is a 0.5 mile round trip. A one-mile loop trail continues from the hot spring around on the bluff above the Rio Grande, returning to the trailhead area. The hot spring is not accessible by car.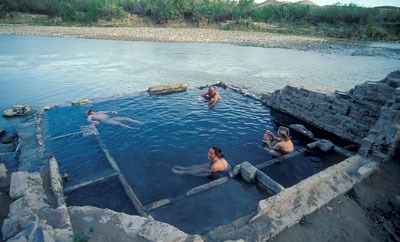 The Hot Spring
Hot spring water is considered old water, fossil water, ancient and irreplaceable. Heated by geothermal processes and emerging at 105° F., the water carries dissolved mineral salts reputed to have healing powers. The therapeutic value of heat has long been touted as a remedy of both body and soul. Be aware that some hot springs can burn you either with the scalding effects of heat or the caustic nature of the water chemistry. Use caution when bathing and limit the exposure of children to the warm waters.
When the Rio Grande floods, muddy water flows over the spring, often submerging it. Once the flood has receded, the spring may be covered in rocks, mud or debris. This will require some digging to form a suitable space for bathing.
The Rules
Be respectful of others; soak only, and use no soaps or oils.
Swimming is not recommended; be aware that adjacent river currents and depths can be unpredictable.
Please help to keep the area clean by picking up trash.
Alcoholic beverages and glass containers are prohibited.
Overnight camping in the area of the Hot Springs is prohibited.
It is illegal to purchase items from vendors operating on the Mexican side of the Rio Grande.
Last updated: May 27, 2021