Primitive Roadside Campsites— Pine Canyon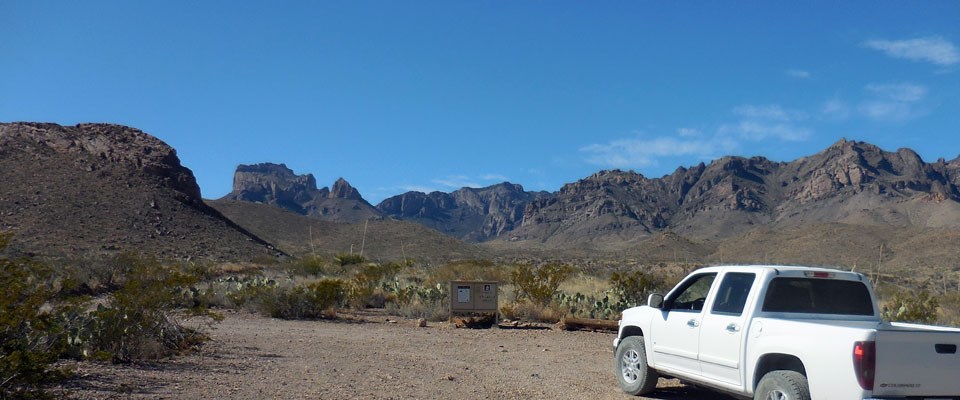 Campsite Specifics
Pine Canyon 1 (PC-1) can accommodate 2 vehicles (including trailers), 6 people, no horses.

Maximum vehicle length is 25 feet.




Maximum trailer length is 20 feet.

Pine Canyon 2 (PC-2) can accommodate 2 vehicles (including trailers), 6 people, no horses.

Maximum vehicle length is 25 feet.
Maximum trailer length is 20 feet.

Pine Canyon 3 (PC-3) can accommodate 1 vehicle, 4 people, no trailers, no horses.

Maximum vehicle length is 25 feet.
No Trailers

Pine Canyon 4 (PC-4) can accommodate 2 vehicles, 6 people, no trailers, no horses.

Maximum vehicle length is 25 feet.
No Trailers

Pine Canyon 5 (PC-5) can accommodate 2 vehicles, 6 people, no trailers, no horses.

Maximum vehicle size is 25'




NO Trailers
*NOTE: A trailer is considered a vehicle for site capacities.
Directions
Pine Canyon primitive roadside campsites are located along the Pine Canyon Road via the Glenn Spring Road. Pine Canyon Road begins 2.3 miles from the junction of the Glenn Spring Road and the main road to Rio Grande Village. The Pine Canyon Road is 4.2 miles in length.
Road Conditions
Glenn Spring Road and Pine Canyon Road are maintained for high clearance vehicles only. Roads are rocky and may become rutted or experience wash-outs, especially after heavy rains.Traveling this road with trailers is not recommended. Check with a ranger for current conditions.
Vegetation
No shade at these sites. Vegetation is sparse grasses and lechuguilla.
Views
Great views of the Chisos Mountains from all sites. Views of Crown Mountain and the Sierra del Carmen are especially scenic.
Cautions
Day hikers may park vehicles near the gate at the end of the road. The area may be frequently visited throughout the day. Lock and secure your vehicle while away.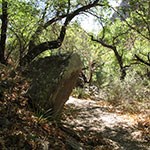 Remarks

Pine Canyon trail, located at the end of the road at the old gate, is easy for the first mile and a half. The last half mile of trail is difficult and steep over loose gravels. The trail ends at a waterfall that flows only after a rain. The canyon is named for its ponderosa pines. The forest is a relict of the last ice age.
Last updated: February 7, 2020