Primitive Roadside Campsite— Twisted Shoe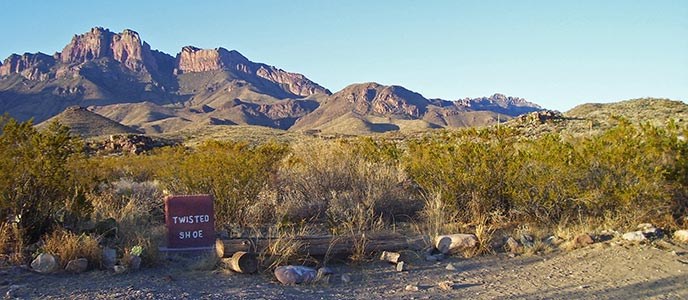 Campsite Specifics
Twisted Shoe (TS-1) can accommodate 1 vehicle, 4 people, no horses.
Directions
Twisted Shoe is located along the Juniper Canyon Road via the Glenn Spring Road. Juniper Canyon Road begins 6.8 miles from the junction of the Glenn Spring Road and the main road to Rio Grande Village.
Road Conditions
The 5.3 mile (8.5km) Juniper Canyon road is very rocky and generally requires a 4-wheel drive vehicle.
Vegetation
There is no shade at this campsite. Moderate ground cover surrounds the site.
Views
Great views of the desert and rugged mountains. The South Rim is visible to the west. Elephant Tusk and Backbone Ridge are visible to the south.
Cautions
A trailhead for the Juniper Canyon Trail and Dodson Trail is located at the end of the dirt road past Twisted Shoe. Lock and secure your vehicle while away.
Remarks
Nice view from this remote site, especially the night sky, and there is very little traffic. There is a bear proof storage box at the site.
Last updated: December 15, 2013