Article
Search for these 20 Suffragists! Word Search
Democracy is very important in our country, and one great way to participate in democracy is to vote in elections! Equality is a key component of the electoral process, but for a long time, women were not allowed to vote. That's half of America! The individuals who fought for women's suffrage or the right to vote believed that the voices of America women were important. They came from all around the world to make sure that women had a say in their country's government and policies. These suffragists may have been different ages, genders, and races–but every one of them knew that voting was important and women deserved to be heard!

Learn more about suffragists by playing a word search. Each person on the list played an important part in the women's suffrage movement. You may know some of them, but some might be new to you! For even more histories of suffragists, check out this list of 20 Suffragists to Know for 2020.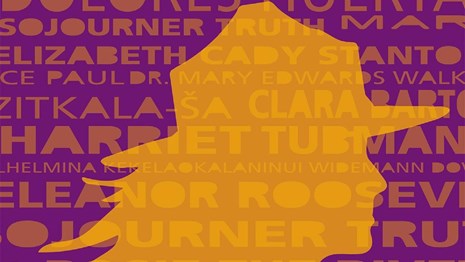 Women's History
Explore the remarkable legacies of women throughout American history.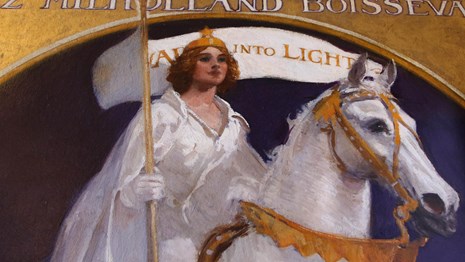 19th Amendment
Learn more about the history of the 19th Amendment, including more games and kids activities.
Instructions
Try to find all 20 of the listed names in the word search. Names may be horizontal, vertical, diagonal, or backwards. Click on their names in the list to learn their story!
| | | | | | | | | | | | | | | | | | | | | | | | | | | |
| --- | --- | --- | --- | --- | --- | --- | --- | --- | --- | --- | --- | --- | --- | --- | --- | --- | --- | --- | --- | --- | --- | --- | --- | --- | --- | --- |
| J | A | N | E | A | D | D | A | M | S | A | L | I | Z | I | T | K | A | L | A | S | A | N | S | W | X | A |
| I | E | D | M | E | J | U | I | S | E | L | S | A | L | L | Y | O | S | E | W | E | P | M | I | Y | L | M |
| N | C | A | R | R | I | E | C | H | A | P | M | A | N | C | A | T | T | R | E | Z | W | A | T | I | M | E |
| A | M | A | N | W | B | A | G | E | S | W | D | E | I | S | A | M | Y | G | O | A | L | B | C | F | I | L |
| N | A | Q | U | N | E | K | A | D | E | P | I | T | S | O | M | A | R | U | S | E | W | E | J | R | S | I |
| N | D | O | W | H | E | L | E | N | K | E | L | L | E | R | N | W | I | E | P | A | P | L | H | E | P | A |
| A | O | H | T | W | I | T | B | E | E | X | J | O | K | E | W | R | H | L | O | A | L | P | I | D | O | B |
| H | L | L | E | R | R | E | T | H | C | R | U | H | C | Y | R | A | M | F | U | N | L | I | W | E | N | O |
| O | O | P | S | W | D | I | S | E | Q | E | L | A | C | K | C | A | M | L | E | F | E | N | H | R | W | Y |
| W | R | E | A | D | T | T | E | N | R | A | B | S | L | L | E | W | B | A | D | I | C | G | A | I | E | N |
| A | E | T | R | I | A | L | W | O | P | A | Z | Q | V | O | T | E | M | W | E | Y | O | H | M | C | A | T |
| R | S | E | P | T | I | M | A | P | O | I | N | S | E | T | T | E | C | L | A | R | K | U | A | K | C | O |
| D | H | O | A | P | W | J | U | T | Z | I | L | K | O | A | P | R | U | M | J | E | S | A | R | D | D | N |
| S | U | P | F | R | E | E | D | O | M | Q | X | A | I | K | I | W | I | A | P | A | L | L | Y | O | Y | R |
| H | E | N | Z | I | A | Y | I | S | O | J | O | U | R | N | E | R | T | R | U | T | H | E | N | U | E | O |
| A | R | T | I | M | A | R | Y | A | N | N | S | H | A | D | D | C | A | R | Y | U | X | E | J | G | J | B |
| W | T | Y | E | L | E | U | N | G | S | C | H | U | L | Z | E | P | W | A | L | A | E | Y | I | L | A | I |
| O | A | S | C | I | T | H | W | O | M | E | N | R | O | C | K | I | W | O | S | T | A | P | T | A | R | N |
| Y | N | I | N | P | S | O | M | K | A | L | O | P | W | Y | N | O | H | T | N | A | B | N | A | S | U | S |
| A | R | Z | F | R | E | K | L | A | W | S | D | R | A | W | D | E | Y | R | A | M | A | D | W | S | Q | O |
| M | A | R | I | E | L | O | U | I | S | E | B | O | T | T | I | N | E | A | U | B | A | L | D | W | I | N |
Word Search Key
| Suffragist Names | Suffragist Names |
| --- | --- |
| | |
Last updated: July 10, 2020