Person
Mary Church Terrell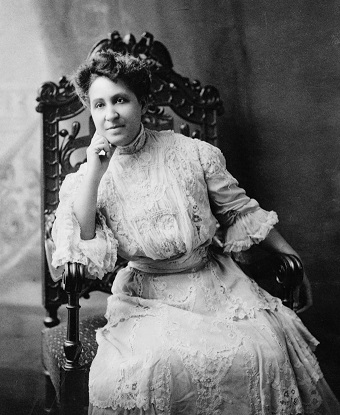 Significance:
African American activist and educator
Place of Birth:
Memphis, TN
Place of Death:
Annapolis, MD
Mary Church Terrell  was born in Memphis, TN in 1863 to formerly enslaved parents. Despite their bondage, her parents became successful business owners. As a result, they could afford to send their daughter to college. Terrell received her Bachelor's and Master's degrees from Oberlin College in Ohio.
Terrell moved to Washington, DC in 1887 and she taught at the M Street School, later known as Paul Laurence Dunbar High School. Her involvement in the early civil rights movement began in 1892 when her friend was lynched by a white mob in Memphis, TN.  Along with Ida B. Wells, Terrell brought attention to the atrocity of lynching.
She was also dedicated to racial uplift. Terrell believed that African Americans would be accepted by white society if they received education and job training. She hoped that if black men and women were seen as successful, they would not be discriminated against. She dedicated herself to educating and helping other African Americans. In addition to serving as president of the National Association of Colored Women, Terrell also supported the black woman's right to vote. She even picketed the White House demanding women's suffrage.
Terrell also worked to end discriminatory practices of restaurants in Washington, DC. In the early 1870s, DC passed anti-discrimination laws. Places such as restaurants could not turn away customers due to the color of their skin. But by the 1890s, African Americans were once again being banned from public places. Terrell launched a campaign to reinstate anti-discrimination laws. On February 28, 1950, she and several colleagues entered segregated Thompson Restaurant. When they were refused service, they promptly filed a lawsuit.  Terrell targeted other restaurants, this time using tactics such as boycotts, picketing, and sit-ins. In 1953, the court ruled that segregated eating places in Washington, DC, were unconstitutional.
Terrell helped achieve many civil rights gains during her lifetime. Her home at 326 T Street, N.W. stands as a reminder of her tireless advocacy.
Sources
Oberlin College. Mary Church Terrell: An Original Oberlin Activist.
https://www.womenshistory.org/education-resources/biographies/mary-church-terrell 

Last updated: March 9, 2022