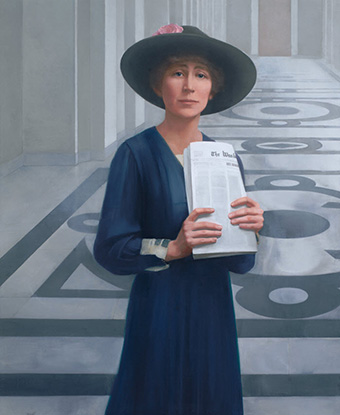 Significance:
First woman to hold federal office in the US; Politician; Women's Rights Advocate
Place of Birth:
Missoula County, Montana
Date of Birth:
June 11, 1880
Place of Death:
Carmel, California
Date of Death:
May 18, 1973
Place of Burial:
Memorial only: Missoula, Montana
Cemetery Name:
Memorial only: Missoula Cemetery
I want to be remembered as the only woman who ever voted to give women the right to vote. --Jeannette Rankin
Jeannette Rankin was born on June 11, 1880 on her parent's ranch near Missoula, Montana. She was the oldest of six children. Her parents, John (a Canadian immigrant) and Olive Rankin had traveled to Montana in search of gold. They later established their ranch and became successful business people. In the 1890s, under the Homestead Act of 1862, the Rankins added another 160 acres to their ranch.
While growing up, Rankin worked on her family ranch. Her jobs included farm and household chores, maintaining machinery, and helping build things. Later she recalled noticing that, while frontier women and men worked the land side by side "proving up" a homestead as equals, they did not have equal access to the vote.
Rankin graduated with a biology degree from the University of Montana in 1902. Her travels took her to San Francisco, New York City, and Spokane, Washington. She became involved in the women's suffrage movement while at the University of Washington. She helped to organize the New York Women's Suffrage Party and worked as a lobbyist for the National American Woman Suffrage Association. In February 1911, she returned to Montana, and became the first woman to argue for women's suffrage in front of the state legislature. In November, 1914, Montana granted women unrestricted voting rights. The suffrage amendment had its largest support from the homestead counties in the eastern portion of the state. Montana had a particularly high number of women homesteaders, as its settlement coincided with larger numbers of women choosing to homestead in the twentieth century.
In 1916, Jeannette Rankin became the first woman in US history elected to the House of Representatives. This was remarkable because most American women were not able to vote until the 19th Amendment passed in 1920. She was a member of the Republican Party. She was the first federally elected woman in the United States elected at the age of 36 to the U.S. House of Representatives as one of two congressional representatives for Montana.
Rankin did not believe that war was a good way to solve conflicts. On April 6, 1917, four days after being sworn in to Congress, she voted against the United States getting involved in the World War (World War I). "I wish to stand for my country," she said, "but I cannot vote for war." The vote generated much ill will, and she was not re-elected in 1918. During her tenure in Congress, however, Rankin did vote to give American women access to the ballot box.
After leaving Washington, DC, she moved to a small farm in Georgia. Her home did not have electricity or plumbing. She continued to work for peace, giving speeches for the Women's Peace Union and the National Council for the Prevention of War. She also worked for social change. She worked to ban child labor and to increase the welfare of women and children. Though she owned the farm in Georgia, her regular summer home from 1923 through 1956 was her brother's property, the Rankin Ranch in Broadwater County, Montana.[1]
In 1940, at age 60, Rankin ran again for a seat in the House of Representatives. She won, and was appointed to the Committee on Public Lands and the Committee on Insular Affairs. On December 8, 1941, the day after the attack on Pearl Harbor, Rankin cast the only vote in Congress against the US declaration of war against Japan. "As a women I can't go to war," she said, "and I refuse to send anyone else." Her vote against US involvement in World War II once again cost her any chance of re-election.
After leaving Congress for a second time, Rankin returned to private life. But in January of 1968, she again returned to Washington, DC. This time, instead of sitting in Congress, she led a march of 5,000 against the Vietnam War to the steps of the US Capitol. Her passion for peace earned her the nickname, "the original dove in Congress."
Jeannette Rankin never married. She died in 1973. A memorial stone to her stands in the Missoula Cemetery. She left her estate to help "mature, unemployed women workers."
[1] 90 acres of Rankin Ranch was added to the National Register of Historic Places and designated a National Historic Landmark on May 11, 1976.

References
O'Brien, Mary Barmeyer. 1995. Jeannette Rankin, 1880-1973: Bright Star in the Big Sky. Helena, Montana: Falcon Press.
Shirley, Gayle C. 1995. More Than Petticoats: Remarkable Montana Women. Helena, Montana: Falcon Press.
United States Congress. 2019. Rankin, Jeannette, (1880-1973). Biographical Directory of the United States Congress.


Last updated: November 5, 2021