Person
Dr. Mabel Ping-Hua Lee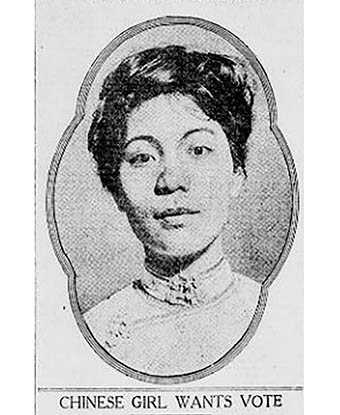 Significance:
Suffragist who mobilized the Chinese community in America to support women's right to vote
Place of Death:
New York City?
Mabel Lee was a suffragist who mobilized the Chinese community in America to support women's right to vote. Because Chinese immigrants were not considered citizens, the ratification of the 19th Amendment in 1920, which removed voting restrictions on the basis of sex, did not give Mabel the right to vote.
Mabel Lee was born in Guangzhou (Canton), not far from Hong Kong in China in 1896. When she was 4, her father moved to the US to serve as a missionary. Lee remained in Hong Kong and lived with her mother and grandmother. She learned English at a missionary school and won a Boxer Indemnity Scholarship. This academic scholarship granted her a US visa and the Lee family settled in New York City's Chinatown in 1905. Mabel attended Erasmus Hall Academy in Brooklyn.
By the time she was 16, Mabel Lee was a known figure in New York's suffrage movement. New York City suffragists held a parade in 1912 to advocate for women's voting rights. Ten thousand people attended the parade. Lee, on horseback, helped lead the parade from its starting point in Greenwich Village. The New York Tribune wrote an article about her before the parade. The article highlighted her academic accomplishments and her desire to improve the lives of women and girls. She was also mentioned in the New York Times' parade coverage.
Lee started her studies at Barnard College in New York City in 1912. Barnard College, an all-women's school, was founded because Columbia University refused to admit women. While there, Mabel joined the Chinese Students' Association and wrote feminist essays for The Chinese Students' Monthly. Lee was involved in the suffrage movement throughout college. Her May 1914 essay, "The Meaning of Woman Suffrage," argued that suffrage for women was necessary to a successful democracy. The extension of democracy (through voting) and "equality of opportunities to women" was, she stated, the hallmarks of true feminism. In 1915, the Women's Political Union started a Suffrage Shop and invited Lee to give a speech. Covered by the New York Times, her speech "The Submerged Half" urged the Chinese community to promote girls' education and women's civic participation.
Women won the right to vote in New York State in 1917. In 1920, the 19th Amendment gave women throughout the country the right to vote. But not all women in the US benefitted. Chinese women, like Mabel Lee, could not vote until 1943. This was because of the Chinese Exclusion Act, a Federal law in place from 1882 to 1943. The Chinese Exclusion Act limited Chinese immigration and prevented Chinese immigrants from becoming citizens. Without US citizenship, Mabel Lee could not vote. Yet, she and other Chinese suffragists advocated for women's voting rights, even though they did not benefit from the legislation.
After graduating from Barnard College, Lee got a PhD in economics at Columbia University. She was the first Chinese woman to do so. In 1921, Lee published her research as a book called The Economic History of China.
Ever since high school, Mabel had wanted to move back to China and start a girl's school. But after her father died in 1924, she took over his role as director of the First Chinese Baptist Church of New York City. She later founded the Chinese Christian Center which served as a community center. It offered vocational and English classes, a health clinic, and a kindergarten. Lee never married and devoted her life to the Chinese community.
Mabel Lee died in 1966. We don't know if Mabel Lee ever became a US citizen or if she ever voted in the US.
 
Bibliography
Brooks, Charlotte (2014) "Suffragist Landmark." Asian American History in NYC: Finding the Asian American Past in the Five Boroughs, August 25, 2014.
Harvard University Library (2018) "Chinese Exclusion Act (1882)." Aspiration, Acculturation, and Impact: Immigration to the United States, 1789-1930, Harvard University Library Open Collection Program.
Lee, Mabel (1915) "China's Submerged Half." (.pdf)
New York Times (1912) "Suffrage Army Out on Parade; Perhaps 10,000 Women and Men Sympathizers March for the Cause." New York Times, May 5, 1912. 
New York Tribune (1912) "Chinese Girl Wants Vote." New York Tribune, April 13, 1912, p. 3. Available through the Library of Congress' Chronicling America project.
Tseng, Timothy (1996) "Dr. Mabel Lee: The Interstitial Career of a Protestant Chinese American Woman, 1924-1950." Paper presented at the Organization of American Historians Annual Meeting, Chicago, Illinois. Paper available online (.pdf).
---. (2013) "Asian American Legacy: Dr. Mabel Lee." Author website, December 12, 2013.
---. (2017) "Chinatown's Suffragist, Pastor, and Community Organizer." Christianity Today: Christian History, June 2017.

Last updated: March 9, 2022