Person
Dr. Mary Edwards Walker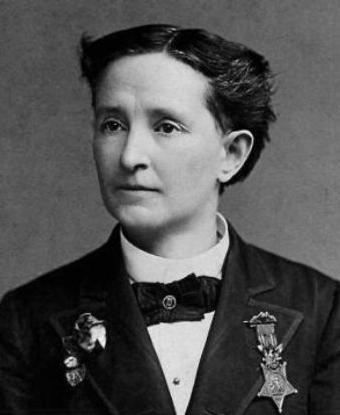 Significance:
Doctor, suffragist, Civil War surgeon, only woman to receive the Medal of Honor
Place of Birth:
Oswego, NY
Date of Birth:
November 26, 1832
Place of Death:
Oswego, NY
Date of Death:
February 21, 1919
Place of Burial:
Oswego, NY
Cemetery Name:
Rural Cemetery
An American feminist, suffragist, suspected spy, prisoner of war and surgeon, Dr. Mary Edwards Walker remains the only women ever to receive the Medal of Honor, which she was awarded for her service during the Civil War.
She grew up in Oswego, New York, raised by her progressive parents along with her six brothers and sisters. "Free thinkers," they were raised to question everything. Helping on the farm, Mary often wore trousers and shirts because they were more comfortable. She was a non-comformist throughout her life.
Walker graduated with a doctor of medicine degree from Syracuse Medical College in 1855. Following her graduation, she married her fellow medical student, Albert Miller, and they set up a joint practice in Rome, New York. The practice failed, ostensibly because the public would not accept a female doctor. She refused to agree to "obey" Albert in her wedding vows, kept her last name, and wore a short skirt and trousers instead of a traditional wedding dress; they later divorced. Dr. Walker was strongly opposed to traditional women's dress, arguing they were uncomfortable, inhibited mobility, and spread dust and dirt. Her typical clothes -- for which she was often mocked, punished, and treated as an oddity -- were, in the 1860s, trousers with suspenders worn under a knee-length dress (later she would wear jackets and trousers almost exclusively). In 1860, she briefly attended Bowen Collegiate Institute in Hopkinton, Iowa.[1] She was suspended from the school for refusing to resign from the school's otherwise all-male debate team. 
At the onset of the Civil War, Dr. Walker traveled to Washington to join the Union army. She was denied a commission as a medical officer, but served anyway as an unpaid volunteer surgeon at the U.S. Patent Office Hospital in Washington.[2] In 1862, she worked as an unpaid field surgeon near the front lines at Fredericksburg and Chattanooga. Throughout the War, she wore men's clothing, arguing that doing so made her job easier.
In September 1863, Dr. Walker became the first female U.S. Army surgeon following her commission as a "Contract Acting Assistant Surgeon (civilian)" by the Army of the Cumberland. While serving as an assistant surgeon with the 52nd Ohio Infantry, she routinely crossed the lines to treat civilians. On one such foray in 1864, she was detained by Confederate troops and arrested for spying. While imprisoned, she continued to refuse to wear traditionally feminine clothing. After spending four months at the notorious Castle Thunder prison near Richmond, Virginia Dr. Walker was freed in a prisoner exchange. During the remainder of the war, she served at the Louisville Women's Prison Hospital and at an orphan asylum in Clarksville, Tennessee.
After the war, Dr. Walker was awarded a disability pension for muscular atrophy that she suffered while in prison in Castle Thunder. Based on the recommendation of Major Generals Sherman and Thomas, President Andrew Johnson signed a bill on November 11, 1865, to present Walker with the Medal of Honor for Meritorious Service. The medal was stripped from her (and several others) by government action from 1916 to 1917. It was reinstated to her in 1977. She remains the only woman to receive the Medal of Honor. Dr. Walker spent the remainder of her life advancing the cause of women's rights.
Her choice of profession and dress marked her for harassment and ridicule her whole life. In 1870, while she was in New Orleans, she was arrested because she was dressed as a man. The arresting officer twisted her arm, and asked if she had ever been in a relationship with a man (dressing outside of gendered norms at the time was seen as evidence of homosexuality). Dr. Walker was released from custody only after she was recognized by officers of the court. She was frequently arrested for wearning men's clothes, including her signature top hat. She responded to those who criticized her choices, "I don't wear men's clothes, I wear my own clothes."
The ridicule and spectacle of Dr. Walker's clothing continued for the rest of her life. For example, in 1914, The Custom Cutters' Association of America (tailors) were having a meeting at the New Willard Hotel in Washington, DC.[3] Dr. Walker was a guest at the hotel at the time. The following proposition was made to the Custom Cutters' Association:
We will have with us tonight the flower and the cream of the custom cutters of the world. It will be a great occasion. We can make it even greater than we had expected it to be. There is now in this hotel Dr. Mary Walker, the only woman ever given permission by Congress to appear on the streets or in the House at any time or at any place in the garb and habiliments of mere man. Why should it not be a great thing to have the custom cutters, the clothiers of man, addressed by the only woman who has this remarkable privilege?
The organizers of the Custom Cutters' meeting agreed, and during the banquet, she was introduced as "a novelty." Unfortunately, the Master of Ceremonies also introduced her as Miss Susan B. Anthony (who had died several years previous).[4]
Dr. Walker was active in the fight for suffrage, and tried to register to vote in 1871, but was denied. She was among the early advocates for women's suffrage who argued that the Constitution had already granted women the right to vote, and that all that was required was enabling legislation from Congress. In 1912 and 1914, she testified in front of the US House of Representatives in support of women's suffrage. She became increasingly distanced from the mainstream fight for suffrage as people began to argue instead for a constitutional amendment recognizing women's right to vote. 
 
In her later years, Dr. Walker opened her home to those who were also ostracized, harassed, and arrested for not conforming to traditional ideas of how people should dress. Dr. Mary Walker died at her home on February 21, 1919. She was buried in a black suit at Rural Cemetery in Oswego, New York.
Notes:
[1] Later known as Lenox College and now defunct, the Old Lenox College Historic District was listed on the National Register of Historic Places on December 19, 1974.
[2] The Old Patent Office, which now houses the Smithsonian Portrait Gallery and the Smithsonian American Art Museum, was added to the National Register of Historic Places on October 15, 1966 and designated a National Historic Landmark on January 12, 1965.
[3] The New Willard Hotel at 1401-1409 Pennsylvania Avenue NW, Washington, DC was listed on the National Register of Historic Places on February 15, 1974.
[4] Hay, James Jr. "Feature of the Banquet. Dr. Mary Walker Introduced as Susan B. Anthony." Washington Post, June 28, 1914

Last updated: April 12, 2021