Person
Septima Poinsette Clark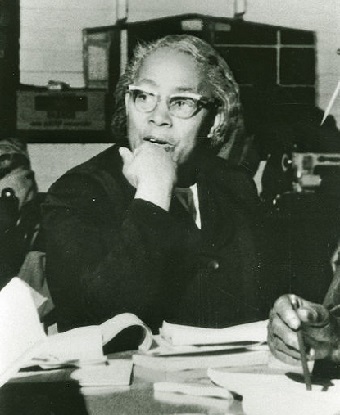 Significance:
Civil rights activist, founder of Citizenship Schools
Place of Birth:
Charleston, SC
Place of Death:
Johns Island, SC
Date of Death:
December, 1987
Place of Burial:
Charleston, SC
Cemetery Name:
Old Bethel United Methodist Church Cemetery
Septima Poinsette Clark was a civil rights activist born in Charleston, South Carolina in 1898. She attended the Avery Normal Institute and graduated in 1916. When she was 18, Clark started her career as a school teacher in a one room schoolhouse. She wanted to do more to advance the rights of African Americans and she joined the Charleston branch of the National Association for the Advancement of Colored People (NAACP).
Many southern states enforced segregation until the mid-1900s, meaning that white schools did not allow African American students to attend. Due to the color of her skin, Clark was not allowed to teach in the Charleston public school system, and instead she had to accept teaching positions in rural school districts. Clark and others thought this was unfair and they protested to win African Americans the right to teach at Charleston public schools. The campaign was successful and Clark was convinced that social activism had the power to better the lives of African Americans.
 In the 1950s, Clark and the NAACP advocated for the integration of public schools. Her involvement in the NAACP did not go unnoticed by the Charleston City School Board. Clark was asked to keep her membership in the NAACP a secret, but she refused. As a result, the school board fired her. No longer employed, she devoted all of her time to activism.
 Clark was particularly upset by the voting system in the South. Black men and women had the right to vote, but were often kept from the voting polls by literacy tests. Many adult African Americans could not read because their parents and grandparents were formerly enslaved. Slavery was legal in the United States until 1865, and it was illegal to teach an enslaved person to read and write. As a result, literacy tests prevented many black citizens from voting, even in the 1950s and 1960s.
 Clark designed educational programs to teach African American community members how to read and write. She thought this was important in order to vote and gain other rights. Her idea for "citizen education" became the cornerstone of the Civil Right Movement. She worked with Martin Luther King, Jr. and the Southern Christian Leadership Conference (SCLC) to win rights for African Americans.
 Septima Clark continued to serve as an advocate and a leader until her death in 1987.
Works Referenced:
Blackmore, Erin. "How Septima Poinsette Clark Spoke Up for Civil Rights." (Feb, 2016). JSTOR Daily, http://daily.jstor.org/how-septima-clark-spoke-up-for-civil-rights/. 
Charron, Katherine Mellen. Freedom's Teacher: The Life of Septima Clark. Chapel Hill: The University of North Carolina Press, 2009. 
Rouse, Jacqueline A. "'We Seek to Know ...in Order to Speak the Truth:' Nurturing the Seeds of Discontent - Septima P. Clark and Participatory Leadership." In Sisters in the Struggle: African American Women in the Civil Rights-Black Power Movement. Edited by Bettye Collier-Thomas, V.P. Franklin. New York: New York University Press, 2001.

The content for this article was researched and written by Dr. Katherine Crawford-Lackey.

Last updated: August 6, 2021