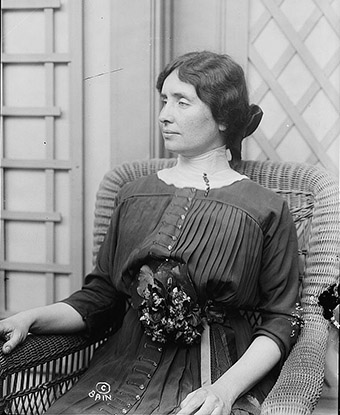 Significance:
Civil rights activist; women's rights activist; author; speaker
Place of Birth:
Tuscumbia, Alabama
Date of Birth:
June 27, 1880
Place of Death:
Easton, Connecticut
Date of Death:
June 1, 1968
Place of Burial:
Washington, DC
Cemetery Name:
National Cathedral
Helen Keller was born to a prominent family in Tuscumbia, Alabama in 1880.[1] When she was nineteen months old, Keller lost her ability to see and hear. As part of their efforts to communicate with Helen, her parents Arthur and Catherine Keller turned to the Perkins School for the Blind, based in Watertown, Massachusetts. A Perkins graduate named Anne Sullivan was sent to the Keller home to train Helen in her seventh year. Sullivan famously taught Keller to read braille and in time, Keller was able to communicate through both sign language and aural speech.
Following the completion of her studies at the Cambridge School for Young Ladies, Keller enrolled at Radcliffe College. While completing her collegiate studies, Keller wrote her autobiography, The Story of My Life, first published in 1904.[2] All of her work as student and author was done in conjunction with Sullivan, who became a lifelong friend.
A self-described "militant suffragette," Keller used the considerable notoriety she gained in her adolescence to advocate for others for the rest of her life. In 1913, Keller participated in the large parade known as the "Woman Suffrage Procession" in Washington, DC. Her interest in women's rights was rooted in her connections to contemporary labor movements. Keller was particularly interested in working people's issues, including industrial safety standards, which led to membership in the Industrial Workers of the World (IWW). Keller's radical politics also included supporting the movement to increase access to birth control for women. When a biographical film called Deliverance, which featured Keller, premiered in New York City, she joined with striking actors instead of attending. 
Keller regularly gave lectures in support of the American Foundation for the Blind (AFB) to earn a living. Though she was interested in persons with disabilities, it is important to note the breadth of Keller's interests. Later in life, Keller was particularly passionate and dedicated to global causes, including anti-imperialism. An anti-war philosopher and agitator, Keller protested World War I and later, World War II.
Over the course of her lifetime, Keller would become one of the world's best-known people with a disability. A complex woman with a range of political affiliations, Keller is often remembered for her early triumphs. This early focus misses Keller's evolution and the contributions she made to a variety of causes. Keller was born into affluence and comfort; she died nearly ninety years later a devoted revolutionary who had worked tirelessly to make the oppression of others better understood. Her ashes, as well of those of her companion, Anne Sullivan, are interred at the National Cathedral in Washington, DC.[3]
Notes:
[1] Helen Keller was born at home. The property, which is listed on the National Register of Historic Places, is known as Ivy Green.
[2] The Story of My Life has been adapted for film and stage as The Miracle Worker.
[3] The National Cathedral was listed on the National Register of Historic Places on May 3, 1974. Anne Sullivan was the first woman whose remains were interred here.
Works Referenced:
Helen Keller, The Story of My Life (New York: Double Day, Page & Co., 1904).
Helen Keller, Out of the Dark: Essays, Lectures, and Addresses on Physical and Social Vision (New York: Doubleday, Page and Company, 1920).
Kim E. Nielson, The Radical Lives of Helen Keller (New York: New York University Press, 2004).


Last updated: July 15, 2020