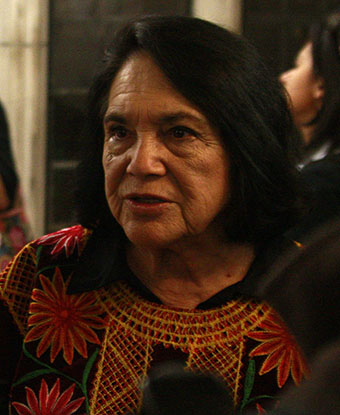 Significance:
Labor organizer; co-founder of the National Farm Workers Association; works to register voters
Place of Birth:
Dawson, New Mexico
Date of Birth:
April 10, 1930
Dolores Huerta was born Dolores Clara Fernández on April 10, 1930, in the mining town of Dawson, New Mexico. She was the daughter of Juan Fernández and Alicia Chávez. Her father was a farm worker, miner, and union activist elected to the New Mexico legislature in 1938. When she was three, her parents divorced. Huerta moved with her two brothers and mother to Stockton, California, where she spent most of her childhood and early adult life.
Huerta's mother was known in the local community for her kindness and compassion. She was actively engaged in her community of working families of Mexican, Filipino, African American, Japanese, and Chinese descent. Huerta later credits her mother with providing her with the inspiration for her nonviolent stance and her work organizing farmworkers.
Huerta earned a teaching credential from University of the Pacific's Delta College in Stockton. After graduating, she worked teaching the children of farmworkers. It was this experience that catalyzed her into her labor activism. She recalls, "I couldn't tolerate seeing kids come to class hungry and needing shoes. I thought I could do more by organizing farm workers than by trying to teach their hungry children." She left teaching to work in the leadership of the Community Service Organization (CSO), which worked for the economic improvement of Latinos. In 1955, during her work with the CSO, Huerta was introduced to César Chávez, its executive director. In 1960, Huerta founded the Agricultural Workers Association, which organized voter registration drives.
Huerta and Chávez soon realized they shared interest in organizing farm workers. In 1962, they left the CSO to launch the National Farm Workers Association (NFWA). In 1965, the NFWA was approached by grape workers in Delano, California to support their strike. They were striking for a wage increase. The Delano workers were mostly Filipino laborers affiliated with the Agricultural Workers Organizing Committee (AWOC). The NFWA merged with the AWOC, ultimately forming the United Farm Workers of America in 1966.
Huerta took an intersectional analysis to organizing the farm workers, meaning that she considered how the specific needs of workers varied depending on their diverse identities. She observed that women farm workers were at unique risk of sexual violence, and that the children of farm workers had specific concerns for their rights as younger laborers in the fields working alongside their parents. Her concern for the needs of the families of workers influenced her stance on the necessity of nonviolent action.
Huerta is still active in community organizing. In 2003, she established the Dolores Huerta Foundation for grassroots community organizing. The Foundation works to organize communities and develop future leaders. Huerta often advocates and encourages Latina women to become involved in public office. She sees the work of her foundation as continuing the legacies of the nonviolent movements for civil rights that she participated in. The Foundation continues to engage California residents in voter registration drives and nonpartisan candidate forums, continuing Huerta's work that she began with the Agricultural Workers Association in 1960.
Dolores Huerta is the recipient of the Eleanor Roosevelt Award for Human Rights (granted by the President of the United States), the Presidential Medal of Freedom, and other awards. In 1993, he was the first Latina inducted into the US National Women's Hall of Fame. She has also been recognized by the communities she fought for: numerous murals and corridos (a traditional Mexican type of song) have been created in her honor.

Last updated: March 30, 2021