Be a Junior Ranger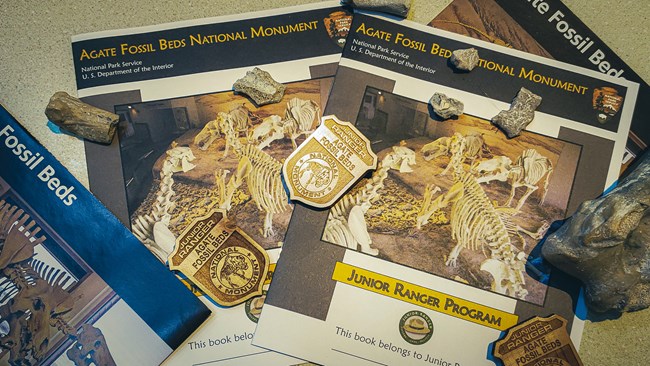 Visiting your National Parks with your favorite young student? The Junior Ranger and Peewee Ranger programs are a great way to turn your vacation or weekend visit to your National Monument a positive, enriching and educational experience.
Ask your friendly ranger at the visitor center for a copy of the brochures. The program is free! And once you're done, take the Junior Ranger pledge and earn the coveted and stylish Junior Ranger badge. Earn one at each park you visit, and show your commitment to protecting our national scenic, natural and cultural heritage.
Kate Cook and her daughter-in-law Eleanor Cook believed strongly in education. They both homeschooled their children. They taught their kids the joys of curiosity and the benefits of asking questions. Consequently, their home libraries were full of books on various topics.
Agate continues to foster that spirit of curiosity and education with our young visitors. We have a selection of other national Junior Ranger thematic books at the visitor center. Want to get started before your visit? All of the books offered at Agate are linked below.
Want to explore more junior ranger books? Check out the
NPS Junior Ranger page
!
Jr Ranger Books Available at Agate
Last updated: December 7, 2023