Be a Junior Ranger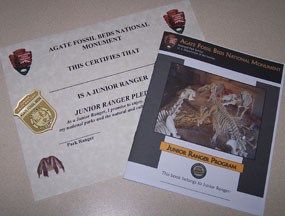 We have free Junior Ranger activity booklets waiting for you at the visitor center information desk. There are several activities to choose from that range in difficulty from easy to hard. Answers may be found using the park brochure and the exhibits and hiking one or both of the trails is an activity. Take your age and divide by 2, this is how many activities you need to complete to earn your Junior Ranger badge.
When you finish, take your booklet to the Ranger at the desk and he/she will look through it with you. After you talk about your work, you'll say the Junior Ranger Pledge and receive your official Agate Fossil Beds National Monument badge and Junior Ranger Certificate. Then you can take your booklet with you and finish the rest of the activities.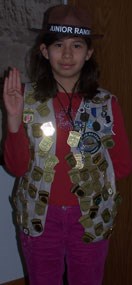 Remember, many of the national parks and monuments have Junior Ranger programs and it's neat to collect the badges and display them on a hat, sash, or vest. Just think of the places you'll remember when to look at each badge.
Last updated: April 10, 2015