Basic Information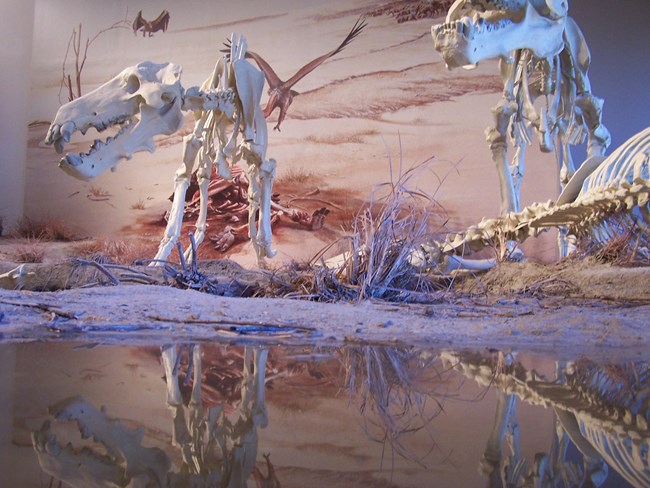 Cellular voice and data service is spotty for most major carriers throughout Western Nebraska. Free visitor WiFi is available in the visitor center.

Plan ahead: check your fuel and pack your lunch before visiting. Nearest gas stations, groceries and restaurants are at least 30 miles away.
What is There to Do at Agate Fossil Beds?
Check out our world-famous diorama of Miocene mammals and the impressive displays of fossils excavated right here on site.
See the James H. Cook Collection of Lakota artifacts. Are you visiting us as part of a great plains road trip? This historically significant set of gifts from Chief Red Cloud and other Lakota and Cheyenne leaders to rancher James Cook will give you a lot of contextual background of the Plains Indian tribes and their struggle against European settlers invading their lands, from their point of view.
Hike our two trails. Do you want to see the historic dig sites and learn the history of why Agate is important to understanding the Age of Mammals? Then the 2.8 mile Fossil HIlls Trail is for you. Do you want to see fossils in the side of a hill? Then the 1 mile Daemonelix Trail is your best bet.
See our 12-minute movie "The Fossil Hills," which will provide you a good summary of how the Agate Paleoriver created an oasis of life in this area... and then dried up to cause the drama of starvation and death which created the Agate Bone Bed.
May 15 - Sept 30:  Daily, 9:00a - 5:00p
Oct 1 - May 14: Daily, 8:00a - 4:00p
Please note that Agate Fossil Beds is in the Mountain time zone.
Last updated: August 2, 2021