Vehicle Reservations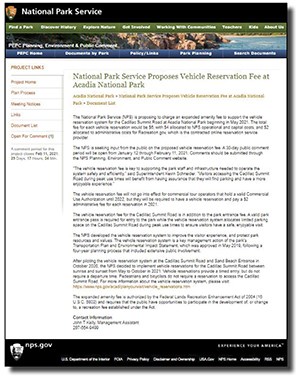 Public comments about proposed amenity fee accepted through Feb 11

The National Park Service is proposing to charge an expanded amenity fee to support the vehicle reservation system for the Cadillac Summit Road at Acadia National Park beginning in May 2021. The total fee for each vehicle reservation would be $6, with $4 allocated to NPS operational and capital costs, and $2 allocated to administrative costs for Recreation.gov, which is the contracted online reservation service provider. Details are available in a press release published Jan 12.
Public comments are accepted through Feb 11 on the NPS Planning, Environment, and Public Comment (PEPC) website.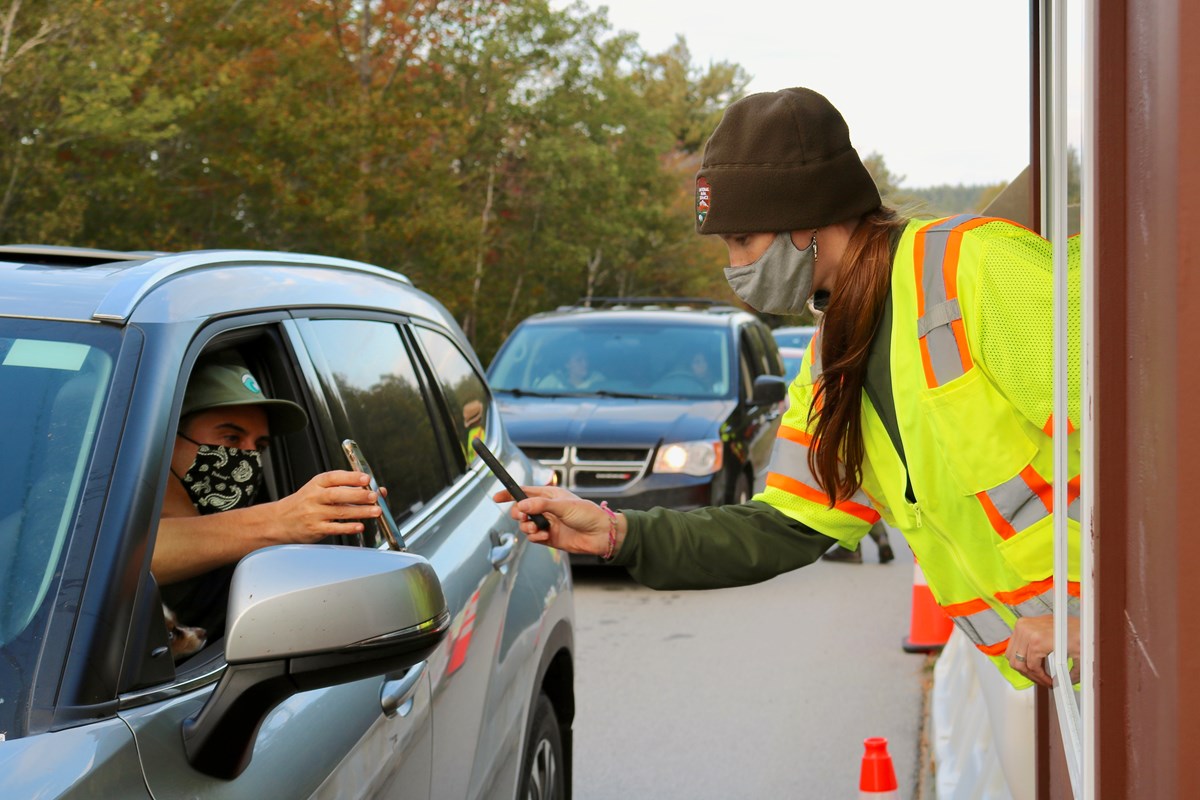 Vehicle Reservations Planning Underway
Visitors to Acadia National Park will need a vehicle reservation to drive up the Cadillac Summit Road during sunrise and daylight hours for the 2021 summer season. Details about reservation dates, costs, and sales procedures are expected to be announced early in the new calendar year.

Vehicle reservations will not be required for the Sand Beach Entrance corridor in 2021, however. While this popular two-mile stretch of the Park Loop Road was included in an 18-day pilot of the reservation system last October, further implementation and planning has been postponed for this area, as well as Jordan Pond.

Factors contributing to next steps include the availability of the fare-free Island Explorer bus system, which was sidelined due to COVID-19 for all of 2020, as well as a number of significant safety, staffing, infrastructure, and connectivity concerns.

In 2019, the National Park Service completed a five-year process to approve a comprehensive Transportation Plan that may take a decade or longer to implement fully. Actions are decided with an adaptive management strategy that continually monitors, evaluates, and refines solutions toward best possible outcomes.

Acadia is among the top ten most popular national parks in the United States, with more than 3.5 million visits a year. Visitation has surged almost 60 percent in a decade, leading to severe crowding at most park destinations. The National Park Service has prepared a Transportation Plan to reduce severe traffic and parking congestion so visitors can plan ahead and have a more enjoyable visit.
Vehicle reservations are not required for other areas of the park, and are not required for visitors who enter reservation areas by foot or bike.
Vehicle reservations are purchased in advance online at Recreation.gov, and are non-refundable for any reason, including fog, cloudiness, and other weather.
You must have have a valid park entrance pass in addition to your vehicle reservation. The vehicle reservation fee is not discounted for annual and lifetime pass holders.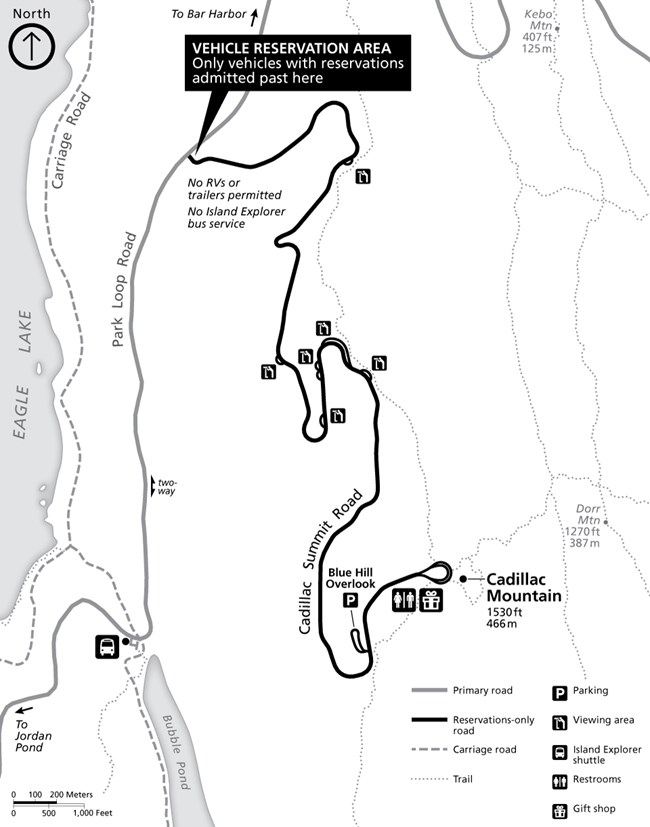 Cadillac Summit Road
Cadillac Summit Road offers a three-mile drive to the top of the highest peak in the park. Along the way, there are several scenic pullouts to enjoy the view. Parking is available in two locations at the summit, where restrooms, a gift shop, and scenic overlooks connected by paved walks can be found. There is no Island Explorer bus service on the Cadillac Summit Road. Sunrise times range from 4:45 am in mid-June to 6:15 am in mid-October.
Road Conditions
The narrow, two-lane road winds to the 1,530-foot summit of Cadillac Mountain. Drivers should use caution when traveling the road and yield to pedestrians. Road length: 3.2 miles.
Parking availability
Paved pullouts are located along the road for short-term parking to enjoy the views. Do not cross traffic to pull out on the opposite side of the road. The Blue Hill Overlook parking area is 1/4-mile before the summit and offers the best sunset views. The Cadillac Summit parking area is arranged in a loop and offers the best sunrise views.
Recreation Vehicles
Recreational vehicles and trailers are prohibited from the Cadillac Summit Road.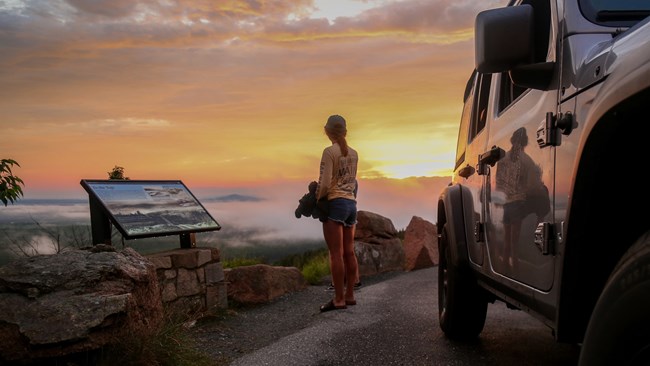 .
Last updated: January 13, 2021