Operating Hours & Seasons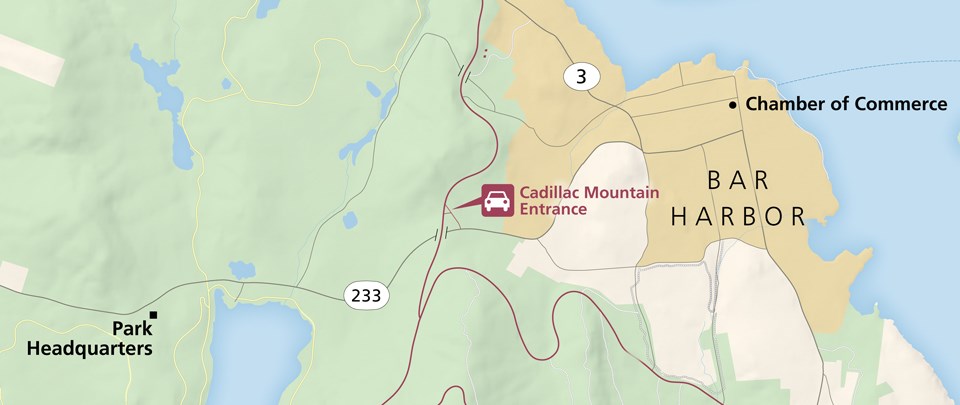 Winter Operations:
Through Sat Apr 14, 2018 the park shares winter visitor operations with the Bar Harbor Chamber of Commerce, 2 Cottage Street, at the corner of Cottage and Main streets (GPS coordinates = 44.398633, -68.204933).
Hours are 8 am to 4 pm weekdays, and 9 am to 5 pm weekends. Early closures are expected at 3 pm the day before Thanksgiving Nov 22, and at noon on New Years Eve, Dec 31. Full-day holiday closures are set for Nov 23, Dec 24, Dec 25, Dec 26, and Jan 1.
Telephone operations will continue at (207) 288-3338.
Park Loop Road
Closed annually December through April 14. Road opening is weather-dependent. Most of Park Loop Road, including the road to Cadillac Mountain, is closed. Two short sections of Park Loop Road remain open all year:
Scenic one-mile (1.6 km) section along the ocean: Access via Schooner Head Road, two miles (3.2 km) south of downtown Bar Harbor
Access to Jordan Pond: Access via Route 3 and Jordan Pond Road in Seal Harbor.
Paved Roads closed annually December through April 14.
Beech Mountain Road Parking Area
Duck Brook Road from Duck Brook Bridge to West Street Extension
Great Meadow Drive
Kebo Street (park-owned section only)
Schooner Head Road (southern end)
Stanley Brook Road
West Street Extension (park-owned section only)
Unpaved Roads closed annually November 15 through May 14.
Long Pond Road
Lurvey Spring Road
Seal Cove Road
Western Mountain Road
Schoodic Head Road (Schoodic Peninsula)
Winter Restrooms
The following restrooms are open during winter operations:
Brown Mountain Parking Area
Eagle Lake Boat Ramp
Eagle Lake Carriage Road
Fabbri Picnic Area
Jordan Pond Boat Ramp
Parkman Mountain Parking Area
Sand Beach Parking Area
Hulls Cove Visitor Center
Apr 15- June 24: 8:30 am–4:30 pm, daily
June 25- Sep 4: 8 am–6 pm, daily
Sep 5–Oct 31: 8:30 am–4:30 pm, daily
Rockefeller Welcome Center
Memorial Day–Columbus Day
Exhibits are open 10 am–4 pm, daily
Business hours: 8 am–5 pm, weekdays
Columbus Day–Memorial Day
Exhibits are open 10 am–4 pm, weekdays
Business hours: 8 am–4 pm, weekdays
Closed weekends
Thompson Island Information Center
May 15 – Oct 13: 8:30 am - 5 pm
Village Green Information Center
May 24 – Columbus Day: 8 am–5 pm
Museums
Islesford Historical Museum
Call 207-288-3338 or 207-244-9224 for more information.
June 19 - Sep 30, 2017

June 19 - Sep 4
11 am–4 pm, daily
Sep 5 - Sep 30
Monday–Saturday, 9 am–3 pm
Sunday, 11 am–4 pm
Sieur de Monts Nature Center
May 6 - Oct 9, 2017

May 6 - June 18: 9 am–5 pm, weekends
June 19 – Oct 9: 9 am–5 pm, daily
Campgrounds
For more information, please visit our Camping page.
Blackwoods Campground
Open year-round.
December–March: primitive walk-in camping only (permit required)

Seawall Campground
Open late May through September 30th.

Schoodic Woods Campground
Open late May to Columbus Day

Duck Harbor Campground (Isle au Haut)
Open May 15–October 15 (permit required)


Last updated: November 16, 2017