Trail Conditions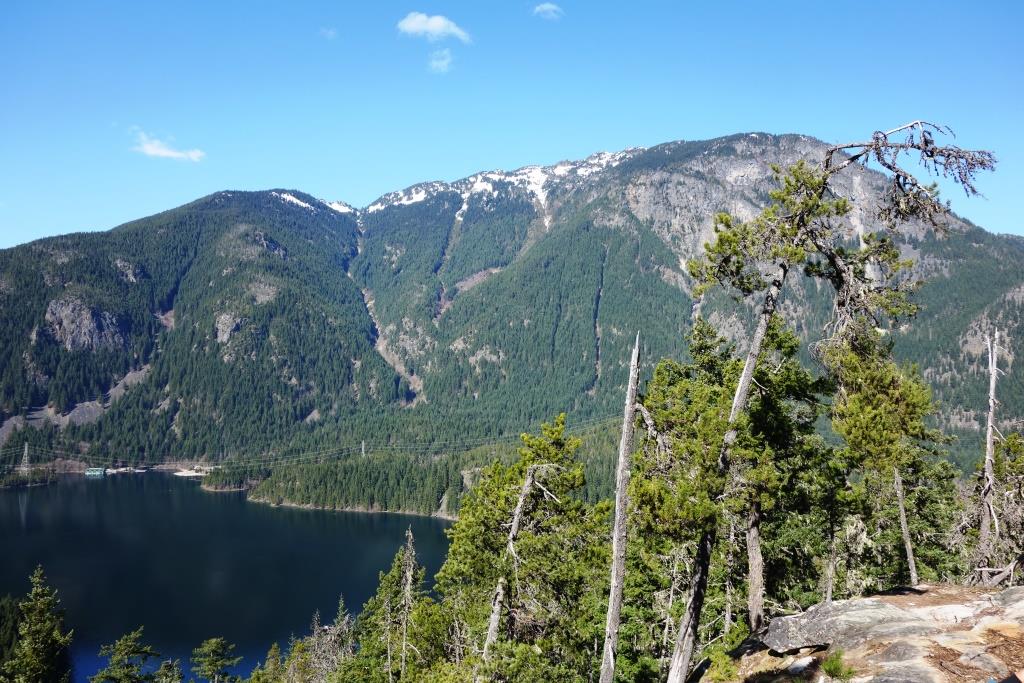 Russ Dalton
General Winter / Spring Conditions

Last Updated March 11, 2015
Unusually sunny and warm days continue to mean a very low snowpack in the North Cascades. Climbers and hikers continue to encounter conditions more consistent with late-June than March! The snow that is on the ground can be very hard and icy, especially with cooler weather--crampons and an ice axe are needed for any steep snow-covered slopes. There is some old snow at lower elevations, but the main snowpack is encountered at 4000 feet or higher. Please note that trail crews are not working at this time of year and downed trees or trail damage from winter storms are very common. New snow could also fall at any time, so always check the latest forecast before heading out, and leave an itinerary and trip plans with someone at home.
Backcountry permits are required year round and are available via self issue at the Wilderness Information Center in Marblemount and at some other stations. Whenever and wherever you travel in the wilderness, please be safe and touch the wilderness gently. Know and practice Leave No Trace camping and hiking. Please e-mail us if you have trail conditions to report.
Closures and Notices
Hard-sided food canisters are required at select backcountry camps and cross-country areas. In order to protect visitors and wildlife and to maintain the wilderness character of North Cascades National Park Complex, hard-sided food canisters are required from June 1 to November 15 for camping at ten backcountry camps and all or parts of five cross-country zones. More information on food storage requirements, including maps of cross-country zones where canisters are required can be found here. Full statement on policy change.
Boulder Creek Trail CLOSED due to the 2014 Lone Mountain Fire. The lightning-caused Lone Mountain Fire ignited on July 15, 2014, and burned across portions of this trail. The trail will be closed until damage can be assessed and repaired.
East end of Diablo Lake Trail remains closed at the suspension bridge. Work is ongoing to finish repairs to the road and Seattle City Light dock facilities, so the trail remains closed at one end until repairs are complete. Note that the trail is still accessible from the west end, beginning at the Environmental Learning Center. See map of closure area.
Trail Name

Elevation &
Trail Type

Reported Conditions

Date

Agnes Gorge
(Stehekin)

Trailhead at 1700', trail's end 2000'

Hiker only

No recent report.

3/11

Baker River

Trailhead at 800', trail's end at 900'

Hiker only

Snowfree, watch for mud. Small creeks run high during winter rain events.

This trail crosses into the National Park and backcountry permits are required to stay at Sulphide Creek Camp.

3/11

Big Beaver

Ross Dam Trailhead at 2100'. Big Beaver 1600'. Beaver Pass 3654'

Hiker, Stock

Snowfree to Big Beaver Camp, expect snow toward 39 Mile Camp. Small creeks can run high in winter and spring.

3/11

Boulder Creek (Stehekin)

Trailhead 1200', Purple Pass 6800'

Hiker, Stock

TRAIL CLOSED until further notice--burned over during Lone Mountain Fire in 2014.

Rennie Creek footlog has been replaced. Located upstream of the ford. Marked with signs and a new trail from both sides of the creek. Lower sections burned in 2010 Rainbow Bridge Fire. Blowdowns are common on this trail due to past forest fires.

3/11

Brush Creek to Whatcom Pass

Whatcom Pass: 5055'

Hiker, Stock

Cleared of down trees in 2014, and worse sections brushed. West side of pass not passable to stock due to eroded tread. Expect snow.

Hard sided food storage canisters strongly recommended at Whatcom Camp due to limited tree limbs and high animal activity.
3/11
Bullion Loop (Stehekin)
Trailhead 1500'
Hiker, Stock
No recent report.

3/11

Cascade Pass / Sahale Arm/ Horseshoe Basin

Trailhead 3660', Cascade Pass 5400', Sahale Glacier camp 7600'

Hiker only

No Pets

No Hunting

Cascade Pass Trail: Snow. Doubtful Creek is a ford--watch for high water. The Basin Creek footlog has been removed for the season.

Sahale Arm: Snow.

Horseshoe Basin: Snow. Brushed in 2014. A very wet trail, especially early season.

FOOD CANISTERS REQUIRED at Sahale Glacier camp June 1 - Nov 15.

3/11

Company Creek (Stehekin)

Trailhead 1200', leaves park at 2500'

Hiker, stock

Expect snow. On Forest Service lside: Many down trees and very brushy in sections. Company Creek is a ford. Trail is obscure around Hilgard Pass. Not regularly maintained in National Forest--be prepared to travel over downed trees and through brush. Trail not passable to stock since 2010.

3/11

Copper Ridge

Copper Lookout: 6260'

Hiker only

Snow. No bridge over the northern crossing of the Chilliwack River and Indian Creek, ford varies greatly depending on rain or meltoff events and may be impassable or very deep after significant rain events.

3/11

Dagger Lake / Twisp Pass

Fireweed 3900', Dagger Lake 5508', Twisp Pass 6100'

Hiker, stock

Snow. Not passable to stock.

3/11

Desolation Peak

Trailhead 1605', Lookout 6108'

Hiker only

No report, expect snowfree in lower miles due to low snowpack.

Summer: No water source at Desolation Camp once snow is gone. Food storage canisters required at Desolation Camp June 1 - Nov. 15.

3/11

Devore Creek (Stehekin)

NPS boundary at 2000'

Hiker only

No report, expect snow at higher elevations.

3/11

Diablo Lake

Trailhead 1200' - max. 2000'

Hiker only

Snowfree, a few downed trees that are easy to pass.

Suspension bridge is CLOSED at east end (far end from Environmental Learning Center), cannot access Ross Haul Road or points east due to a 2010 rock slide that closed the haul road.

3/7

East Bank / Hozomeen Lake

Trailhead 1800', Hozomeen Lake (highest pt.) ~2900'

Hiker, stock

No report, expect mostly snowfree due to low snowpack. Snow most likely at Hidden Hand Pass and near Hozomeen Lake at north end. Roland Creek is a ford. Not passable to stock.



3/11

Easy Pass / Fisher Creek

Trailhead 3700', pass 6400'

Hiker only

From Highway 20: 2013 trail damage on east side of Easy Pass has been re-built by Washington Trails Association crew and in good condition. Snow.

Fisher Creek Valley: Brushy in spots. Many large trees cleared by Washington Trails Association crew between Fisher Camp and Cosho Camp in 2014. Several small down trees between Cosho Camp and Junction Camp. Logan Creek and another creek close by do not have bridges. These creeks often run too high and fast for safe fording even in late summer. Log crossings are possible, but can be challenging. Always assess current conditions. Use caution and turn back if conditions warrant.

3/11

Flat Creek (Stehekin)

1700' - 2000'

Hiker, stock

Expect some down trees and snow. Very brushy, especially beyond the park boundary.
No bridge at the West Fork of Flat Creek at mile 3. Log crossing possible, assess current conditions.

3/11

Fourth of July Pass

Thunder Creek 1200', 4th of July Pass 3500'

Hiker only

No report, but expect mostly snowfree to camp due to low snowpack. Usually snow at pass, and routefinding can be tricky.

No campfires--please bring a campstove!

3/11

Goode Ridge (Stehekin)

Trailhead 2200', ridge 6600'

Hiker, stock

Trail is brushy in several sections. Several large down trees (15+) require some navigation. Expect snow.

Summer: Water only available for the first 1.5 miles. Carry adequate water past this point to stay hydrated.

3/11

Hannegan Pass / Chilliwack River

Trailhead 3000', Hannegan Pass 5060', Canadian border 2000'

Hiker, stock

Snowfree for first 2miles. Use caution as snowbridges melt out--can be hazardous. Solid snow after mile 3.

There is a cable car over the Chilliwack River north of US Cabin Camp--gloves recommended, car can be heavy to pull oneself along.

Pets and hunting are not allowed.
Trail not maintained north of Bear Creek Camp. No access to Canada (consider it a cross-country route).

3/7

Happy Panther

1700 - 2000'

Hiker, stock

Snowfree. A couple of creek crossings are rough footing, but passable to hikers. Diffituclt for stock.

3/11

Trailhead 3700', Hidden Lake: 5700'

Hiker only

Pets not allowed in the National Park

Snowfree to trailhead and for one mile, until trail exits forest, then snowy.

Backcountry CAMPING PERMITS are REQUIRED past the col and down to Hidden Lake. Food canisters required in Hidden Lake Cross Country Zone June 1 - Nov. 15. Reaching the lake requires descending a steep boulder field--no trail to lake shore. Pets and hunting are not allowed beyond the ridge or down to the lake.

2/17

Jack Mountain Trail

East Bank Trail (2000') to NPS boundary (5900'). Little Jack summit at 6750'.

Hiker only

Expect snow. Trail is not maintained on a regular basis, some sections can be overgrown, eroded and rough in some places. Limited water on trail, carry adequate amounts to stay hydrated.

3/11

Lakeshore Trail (Stehekin)

Elevation 1200'

Hiker, stock

Snowfree, some downed trees but passable. This trail burned a few years ago, so newly downed trees are common.

3/11

Little Beaver to Whatcom Pass

Ross Lake 1600', Stillwell ~ 2500', Whatcom Pass 5200'

Hiker only from Little Beaver to Stillwell.

Snow.

Perry Creek and Redoubt Creek are both quite braided and require wet fords. Route across Perry Creek delta is flagged. Very brushy in the open areas between Redoubt and Perry Creeks. Several down trees between Twin Rocks and Whatcom Pass, including one jumble of 8 trees that is impassable to stock. Very brushy in the upper Little Beaver beyond the junction with Big Beaver trail. Food canisters are strongly recommended for camping at Whatcom Camp, as there are very few trees from which to hang food. Snow at pass.

3/11

McAlester Lake / South Pass

Fireweed 3900', McAlester Pass 6000', South Pass 6300'

Hiker, stock

Expect snow.

Foot log installed at the East Fork McAlester Creek in 2012.



3/11

McGregor Mountain (Stehekin)

Trailhead 1700', Heaton Camp 7000'

Hiker, stock

Snow. Mudslide damage one half mile below Heaton Camp. Switchbacks below are easy to see. Several down trees, including one that is impassable to stock. Proper food storage is critical to keep wildlife wild.

Summer: Water is sparse, but usually available about 3/4 of a mile below Heaton Camp. Reaching the summit requires steep rocky scrambling on scree. Difficult in any season.

3/11

Monogram Lake / Lookout Mountain

Trailhead 1300', Monogram Lake 4872'

Hiker only

Snowfree for first few miles, then expect snow at the lake and lookout. Trees down on both USFS and NPS portions of the trail. Two require some maneuvering. No recent report for Lookout Mountian.

Pets and hunting are not allowed in National Park. FOOD CANISTERS are required for camping at Monogram Lake June 1 - Nov. 15.

3/11

North Fork Bridge Creek

2800' to 4200'

Hiker, stock

Expect snow. 2014 reports: Several down trees, especially between Walker Park and Grizzly Creek. Trail is very brushy in sections, particularly above Grizzly Creek and in North Fork Meadows. Grizzly Creek is a ford (2 channels) -- can run high and fast.
Trail is often faint and hard to follow in northern-most 2 miles. Several washouts from summer 2013 are passable for hikers, but may require some route-finding. May not be passable for stock. Grizzly Creek Camp rebuilt in 2012--hikers do not need to ford creek to reach camp. Due to repeated flooding of Grizzly Creek, Grizzly Creek Stock Camp is permanently closed--stock use Walker Park.

3/11

Pacific Crest Trail North (Bridge Creek Trail)

Bridge Creek Trailhead: 4640'

Hiker, stock

Snow.

The Maple Creek foot bridge is removed for the season. Fording Maple Creek can be very challenging or impassable during large rain or snowmelt events.

Since 2012: Bridge over Bridge Creek one mile south of SR 20 collapsed and was replaced with a temporary foot bridge and stock ford. Stock must ford Bridge Creek twice between Hwy 20 and Fireweed Stock Camp.

3/11

Pacific Crest Trail South (Old Wagon Trail and Agnes Creek Trail)

1700' - 2300'

Hiker

Snow.

Old Wagon Trail: Bears frequently seen around Bridge Creek Camp area. Proper food storage is absolutely essential at all times around Bridge Creek Camp.

South of the Park, in the Glacier Peak Wilderness, Summer 2014 report: Due to hazard trees, it is not safe to camp at Hemlock Camp. Alternative camps include 2.4 miles south just before entering Sitting Bull Basin, 2.8 miles north to Cedar camp, and 1.9 miles up the South Fork Agnes Trail. The bridge over Agnes Creek at Hemlock Camp is out of service. There is a re-route for PCT hikers (no stock) to South Fork Agnes Trail. Stock parties must ford Agnes Creek and continue on the PCT, NOT the South Fork Agnes trail re-route.

3/11

Panther Creek

Trailhead 1800', Panther Camp ~2000', Fourth of July Pass 3500'

Hiker only

No report, expect snowfree to camp. Usually snowy at the pass, and routefinding can be tricky. Panther Camp was rebuilt in 2012 and is 3.7 miles from the trail head. New bridge built in 2013 over Panther Creek.

3/11

Park Creek Pass

Trailhead (Stehekin River)2300', Pass 6100'

Hiker, stock

Snow. New footlog installed over Park Creek at Two Mile inlate 2014.

Trail is not recommended for stock due to crossing of Park Creek at Two Mile, although the water level during late summer may be safe enough for horses to ford.

Note: Buckner Camp, as seen on some old maps, no longer exists due to flood damage.

3/11

Purple Creek / War Creek

Trailhead 1200', Purple Pass 6900', War Creek Pass 6500'

Hiker, stock

Note: Boulder Creek Trail is closed due the 2014 Lone Mountain Fire.

Lower half of trail snowfree, snow becomes deeper and difficult to travel just below pass.

Summer: Last water source ascending from Stehekin is at Purple Creek at 2 miles. Campfires are not allowed at Juanita Lake Camp--bring camp stove for cooking.



2/25

Pyramid Lake

Trailhead 1100', Lake 2600'

Hiker only

Snow starts about 1 mile in as of 2/2.

Please help protect the Research Natural Area. CAMPING or FIRES not allowed at Pyramid Lake or along Pyramid Creek.

2/2

Rainbow Creek (Stehekin)

McAlester Pass 6000'

Hiker, stock

Expect snow. Rainbow Ford foot bridge removed for season.
Southern end of this trail passes through the 2010 Rainbow Bridge Fire zone. Down trees are common.

3/11

Rainbow Lake

Rainbow Lake 5630', Bowan Pass 6200'

Hiker, stock

Snow. In 2014, trail tread is eroded in a few places between Rainbow Lake and Bowan Pass--footing is loose and requires care to cross. On north side of Bowan Pass, a drainage gully that crosses the trail in 3 places has removed trail tread in all three locations--passable, with care, to foot traffic, but could be very challenging during a large rain event. Trail is obscure in basin north of the pass. Many down trees and very brushy in sections between Bridge Creek and Bowan Pass.

Trail not recommended for stock north of Rainbow Lake.

Must ford Bridge Creek at South Fork Camp. The ford runs very high in spring and early summer (impassable). Do not expect to be able to safely connect to the Bridge Creek Trail/Pacific Crest Trail until mid-summer. Assess after heavy rain events, and turn back if unsafe.

3/11

Rainbow Loop (Stehekin)

Elevation 1200' to 2200'

Hiker, stock

Snowfree, some downed trees. Hikers use caution as blow downs are common due to 2010 wild fire.





2/25

Sourdough / Pierce Mountain

Trailhead at 900', Sourdough Camp at 5055'. Lookout is at 5968'

Hiker only

As of 2/16 lower trail has no snow, snow encountered at the camp (about 4 miles in). Snow to the ridge. In 2014: Many down trees in the first 2 miles, most are easily passable. Several dozen trees down on the Pierce Mountain Trail below ~4000'. Pierce Mountain Trail somewhat difficult to follow due to brush and down trees. No water available on Pierce Mountain Trail except from pools at Pierce Mtn Camp. Carry plenty of water if ascending the trail from the junction with the Big Beaver Trail.

In late summer, water not available until reaching Sourdough Creek. In the first mile east of the Lookout, cairns mark the trail along the ridge and can be very difficult to follow if ridgeline is in the clouds.

Hard-sided food canister required at Sourdough and Pierce Mountain Camps June 1 - Nov. 15. Pets and hunting are not allowed past the National Park boundary (about 2 miles from trailhead).

2/16

Stetattle Creek

Trailhead at 900'

Hiker only

Some small down trees, easily passable for hikers. Several challenging trail sections in the first 1/4 mile where the creek has eroded the bank and trail (some scrambling and hand holds). Not recommended for beginners or families with small children.

3/11

Stiletto Spur / Stiletto Peak

4000' to ~6100'

Hiker, stock

Stiletto Peak Trail: Some downed trees and brushy in sections. Trail fades out in meadows at ~6100'. Snow.

CAMPING PERMITS REQUIRED - STOVES ONLY, NO FIRES - in Stiletto Cross-Country Zone, which includes Stiletto Lake.

Stiletto Spur: Parts brushed in 2014, but still a brushy trail. Stock parties have a difficult approach to both sides of ford of State Creek. The foot log crossing over State Creek is not recommended for use. Ford can be impassable after large storm events.


3/11

Stehekin River (Stehekin)

1200'

Hiker only

Trail often floods during spring snow-melt and high water events. Trail access is from south end of Stehekin airstrip.

3/11

Summit Trail (Stehekin)

Juanita Lake 6800', high point 7440'

Hiker, stock

Expect snow.
NOTE: The Boulder Creek Trail is closed.

3/11

Thornton Lake

Trailhead 3000', ridge above lake is 5000', Thornton Lake 4500'

Hiker only

No snow until ~ 4000 feet as of 2/2! A few down trees below 3000'. Brushy in sections. Getting to the campsites from the ridge: the trail to lake is steeper than most trails and can be very slippery when wet or icy. Just before reaching the lake outlet the trail drops through a small boulder field with a section that can require some minor rock-climbing moves to navigate. The most cautious method is to drop your pack down first so that you can use your hands to downclimb. Crossing the lake outlet requires crossing a logjam. Use caution.

Food canisters required at Thornton Lakes Camp June 1 - Nov. 15. Camp stoves only, no fires.

3/11

Thunder Creek

Trailhead 1200', Junction camp 3100', Park Creek Pass 6100'

Hiker, stock

Snowfree to Tricouni, some patches of snow before Junction. No report beyond, expect snow by Skagit Queen and south to Park Creek Pass. Downed trees.

Thunder Creek ford just north of Thunder Basin Stock Camp can be high and swift during spring meltoff and weather events--always evaluate stream fords and turn around if necessary.

Skagit Queen Bridge repaired and open to stock.

Food canisters required for camping at Thunder Basin Camp June 1 - Nov. 15. Stoves only, no fires at Thunder Basin Camp.

2/16

Thunder Knob

1200' to 1875'

Hiker only

Snowfree, numerous downed trees. Ford Colonial Creek at start--ford was low and easy on 3/7. Colonial Creek is braided through the campground at the beginning of the trail--footlogs have been removed for the season! Creek may run high during storms or heavy meltoff--assess current conditions.

3/7

Upper Stehekin Valley Trail

(old road from Bridge Creek Camp to Cottonwood Camp)

Bridge Creek Camp (2200') to Cottonwood Camp(2800')

Hiker, Stock

Expect snow.

3/11