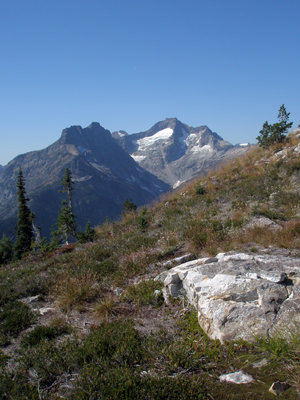 NPS/Sarah Ellison
Detailed Trail Description
The Goode Ridge Trail is a challenging hike offering superb views along its upper reaches, and makes a great day hike for those staying at Bridge Creek Camp. Bring plenty of water as there are no reliable water sources along the trail except for one small seep about a mile (1.6 km) from the trailhead, which can have so little flow as to be unusable by late summer.
The trail begins by climbing steeply through a dense forest of Douglas Fir on the southeast side of the ridge with the sound of Bridge Creek echoing from below. Just beyond the two mile mark, the switchbacks ascend through open hillside meadows that provide the first clear and broad views up the Bridge Creek valley. Early season hikers will find a broad selection of wildflowers, while middle and late season hikers will also find several varieties of huckleberries as an extra reward (and temptation) for stopping to take in the views. The trail continues to switchback through dispersed stands of Subalpine Fir and Mountain Hemlock trees as views become more and more expansive.
About one mile (1.6 km) from the ridgetop, the trail enters a grove of mountain hemlock for about 0.3 miles (0.5 km) before re-entering open heather meadows and reaching the spine of the ridge, leaving the southeast face of the ridge for expansive views of the upper Stehekin River valley and the peaks of the Glacier Peak Wilderness to the south. The trail ends at 6,600' (2,012 m) at the site of an old fire lookout with spectacular 360˚ views of McGregor Mountain, Park Creek and Bridge Creek drainages, and the Cascade Crest stretching northward from Glacier Peak. To the north, the eastern end of Green View Lake sparkles far below. The trail was originally constructed to service the lookout, although most of what remains of the building now are scattered shards of glass amongst the rocks. A long and well-deserved break to absorb the views amongst the sound of the wind provides a taste of the life of a fire lookout. The ridge itself continues to climb impressively northward, composed of sheer, jagged spires that block the view of the summit of Mt. Goode. Due to the rugged nature of the ridge, the Goode Ridge Trail is not used as a climbing approach to the summit of Mt. Goode.