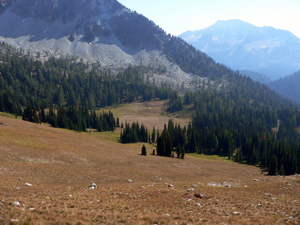 NPS Photo
Detailed Trail Description
Via Bridge Creek Trail: Pick up the Bridge Creek Trail (part of the Pacific Crest Trail) on the south side of the parking area. The trail heads gently downhill through a mix of forest and avalanche paths, crossing small creeks at times. Wildflowers are lovely in early summer. The trail enters North Cascades National Park after 1.4 miles (2.3 km). It is another 1.7 miles (2.7 km) to the junction of the Twisp Pass Trail. Turn left (east) and continue past the Fireweed stock and hiker camps for .4 mile (.6 km) to the junction with the McAlester Creek Trail. Turn right and head south 4.1 miles (6.6 km) to McAlester Lake. Shortly after the junction, the trail crosses the East Fork McAlester Creek. There is no bridge over this creek, which can be difficult or impossible to cross in early summer during the peak of snowmelt (June, early July). The trail continues through mostly forest with occasional meadows, gaining elevation at a steady rate as it enters the Lake Chelan Recreation Area, and gaining elevation more quickly via a series of switchbacks before reaching the lake. From the lake, it is 1.0 mile (1.6 km) to the broad meadows of McAlester Pass. Total hiking distance is 7.6 miles (12.2 km) to McAlester Lake and 8.5 miles (13.7 km) to McAlester Pass.
Via South Pass Trail: After 1 mile in the Okanogan National Forest you enter the Lake Chelan-Sawtooth Wilderness. It is another 6.3 miles (10.1 km) to South Pass and Lake Chelan National Recreation Area, this trail's high point with views to east and west. Drop down through mostly open meadows to reach McAlester Pass in another 1.4 miles (2.3 km). Total hiking distance is 8.7 miles to McAlester Pass and 9.6 miles (15.4 km) to McAlester Lake.
Via Rainbow Creek Trail: Follow the lower Rainbow Loop Trail 1.8 miles (2.9 km) to Rainbow Creek Trail near Rainbow Bridge Camp. Then it is 7.9 miles (12.7 km) with a steep elevation gain to McAlester Pass. Along the way there are three more camps: Rainbow Ford (4.2 miles or 6.8 km), Bench Creek (5.2 miles or 8.4 km), and Bowan Camp (6.2 miles or 10 km).
Tranquil and shallow McAlester Lake sits in a small basin with a mix of meadows and forest surrounding it. A hiker and stock camp are located at the north end, with separate cooking and sleeping areas. Campfires are allowed within the fire grates. These camps are popular, and good fishing can be had in the lake. Please be sure to camp in the designated sites, as the lakeshore is fragile and restoration efforts are underway to repair damage to this area.
High Camp is located at the north end of McAlester Pass, a broad swath of meadows with some boggy areas in early season. High Camp is tucked in the trees at edge of the meadows, and offers a splendid opportunity for solitude in a subalpine setting. Fires are not allowed in this meadow environment. A cooking area is separate from the sleeping tent pad. Be sure to pitch your tent and cook within the designated site, to help protect revegetated areas near the camp to recover. After the water dries up in the meadows, the closest stream is about 0.5 miles (0.8 km) toward the lake or Hidden Meadows.
At over 6,300' (1920 m) in elevation, Hidden Meadows Stock Camp is nestled in a spectacular subalpine meadow. Fires are allowed in the established fire pit, but firewood must be gathered from at least a half mile away to avoid depleting the area of downed wood. Grazing of stock is allowed in the dry areas of the meadow (away from the small streams and boggy areas). A grazing permit must be obtained at the same time as the wilderness permit. Parties traveling off-trail are limited to a combination of six riders and stock.