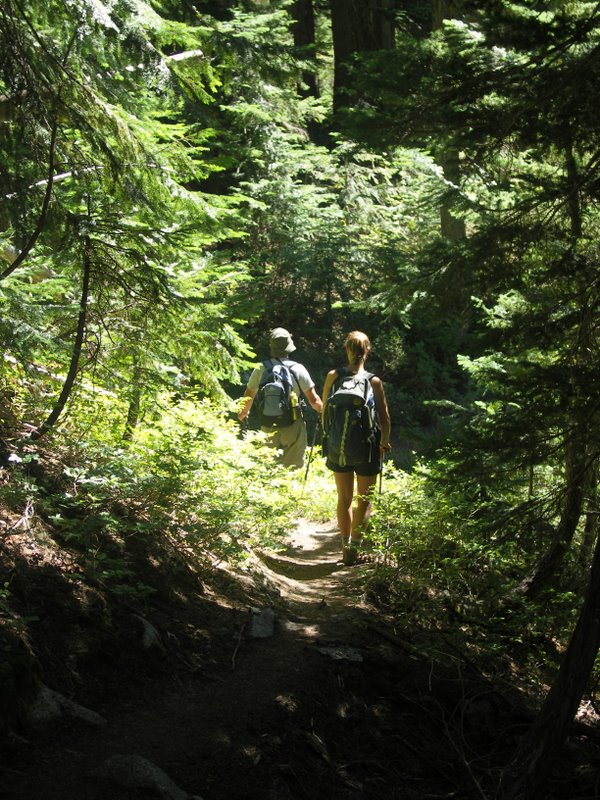 R Seifried
Detailed Trail Description
The first 2.3 trail miles (3.7 km) of trail follow an old road grade through a logging area from the 1960s, before the park was established. A natural mix of Douglas-fir, Pacific silver fir, hemlock, cedar, alder, and maples are returning. This lower section can be brushy.
The trail enters steep forested slopes, with moderate to steep switchbacks, and a wet meadow with boggy plants and a clear creeklet, just before entering the park. Four and a half miles (7.4 km) from the trailhead, the trail breaks out into meadows just below an open ridge. From here there are views of Mt. Triumph, Teebone Ridge, and the Skagit Valley. A scramble route leads steeply upward to Trappers Peak and views of all three lakes. The main trail continues to a lesser ridge with fine views of the first lake and Triumph Peak beyond.
A steep .6 mile (1 km) drop from the saddle ends at lower Thornton Lake. Use caution when crossing the outlet on boulders and logs! There are two more lakes, each cupped in its own rocky basin, above the first lake. These classic cirque lakes were created as glaciers gouged out rock basins, then retreated. A primitive climber's path proceeds to the upper lakes and Triumph Col.
This is a rich wildlife habitat. Look for deer, bear, marmot, and birds. Observe hawks and eagles during autumn migration.