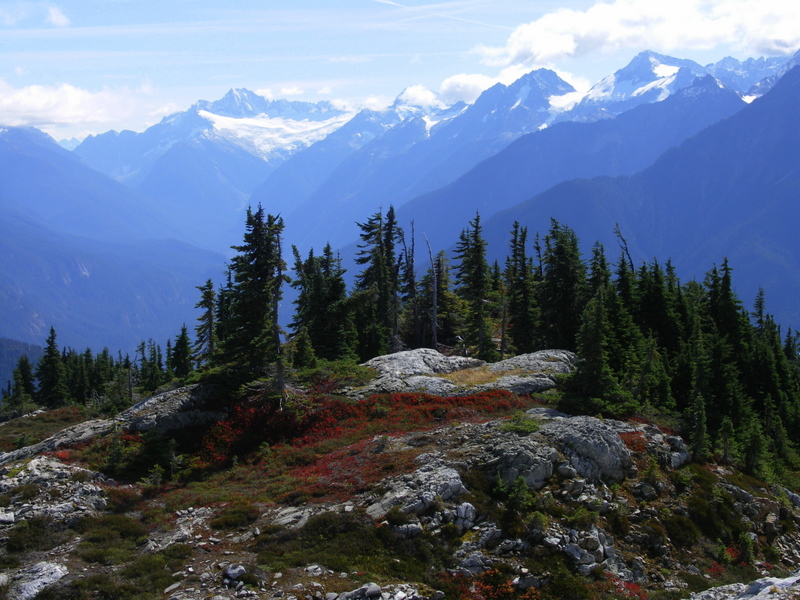 R Seifried
Detailed Trail Description
Diablo approach: In the first 3.5 miles (5.6 km), hikers switchback relentlessly through forest, passing little to no water sources. The grade finally eases, and the trail begins to pass into meadows, just before reaching Sourdough Creek and camp at 4.2 miles (6.8 km). Use caution in crossing Sourdough Creek, particularly when it is bridged by snow, as the snow could weaken and give way. Efforts are grandly rewarded in the last 1.5 miles (2.4 km) of subalpine meadow and ridge top, with giddy views of Diablo Lake far below. Wildflowers, birds, small mammals, deer, and black bear thrive there. Views from the summit are spectacular: peaks and valleys in all directions. Blue lakes, grand glaciers, and the volcanic dome of Mount Baker highlight the display.
Pierce Mountain approach: This route is longer (9.9 miles or 16 km from the Ross Dam Trailhead) and less steep. The lower trail follows Ross Lake. The upper trail ascends through Douglas-fir and mountain hemlock forest zones, before breaking into subalpine meadows. Hikers pass through an old burn area from 1978, now overgrown with lush grasses. Pierce Mountain Camp is set amid a number of shallow tarns (the only water source along this section of trail). Above the camp, the trail is indistinct, and easily lost in early summer snow. Follow rock cairns along the ridge to Sourdough Lookout.
It is possible to make a long loop trip by linking the Sourdough Mountain Trail to the Ross Dam Trail and then the Diablo Lake Trail, and walking short distances along the Diablo Dam road and through the town of Diablo. A short trail leads down alongside Diablo Dam, connecting the lake to the town below, and returning to the Sourdough Mountain trailhead. The entire loop is approximately 20.5 miles (33 km).
A historic landmark, the summit of Sourdough was one of the first "lookout" points established by the U.S. Forest Service in 1915. Glee Davis built the original lookout in 1917. A neighboring peak to the west of Sourdough is named for the Davis family. The present building, dating to 1933, was rehabilitated in 1998-99. "Bush" Osborne chose the location to test his fire locating device. The Osborne Firefinder soon became standard equipment in lookouts.