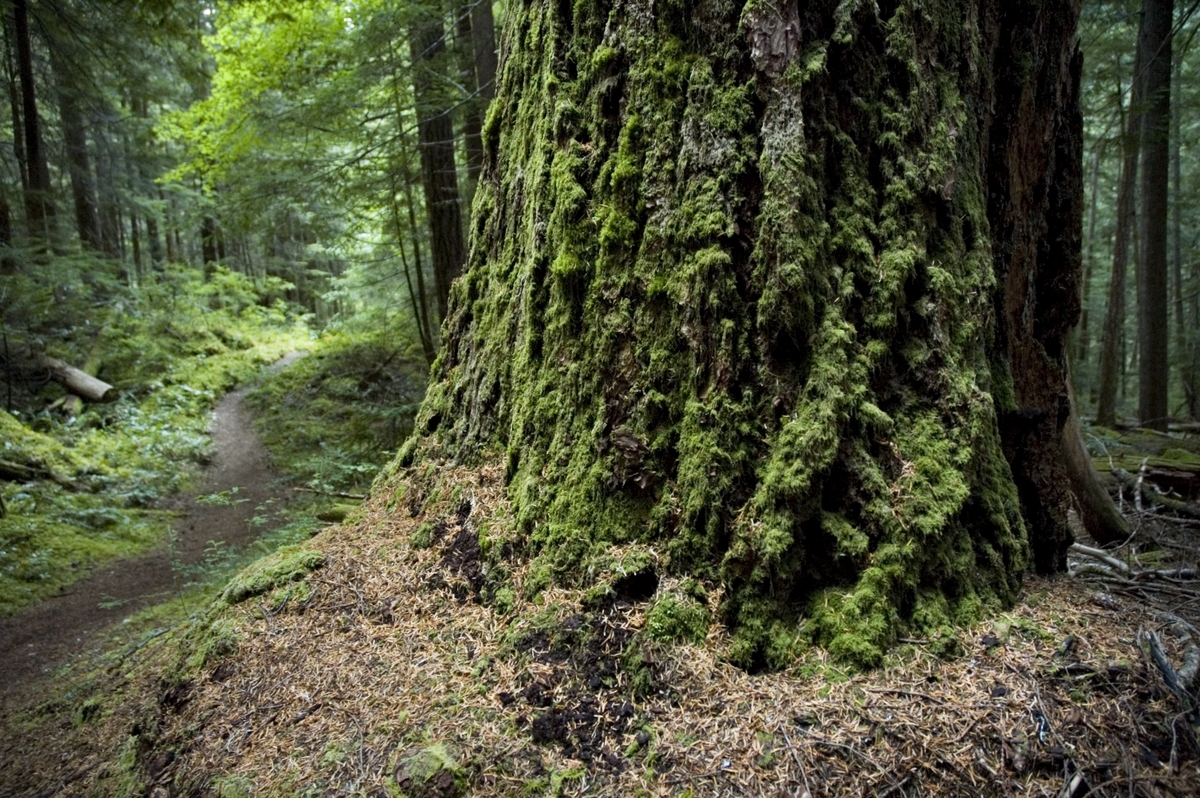 Emil Christofferson
Detailed Trail Description
The first half mile (.8 km) follows Thunder Arm of Diablo Lake. Note the turquoise color of the lake and stream. This is because Thunder Creek carries a heavy load of "rock flour," ground by the many glaciers of its headwaters. This trail was opened by prospectors and trappers. Mining developers and the US Forest Service made major improvements in the early 1900's. Look for old blazes, and a few cut stumps along the way. At 300 yards (90 m) from the trailhead, a sign marks the Thunder Woods Nature Trail leading off to the right. This is a self-guided interpretive walk along a 0.9 mile (1.4 km) loop.
The main trail winds through some exceptionally large old cedar and fir trees, with periodic views of the creek. Woodland flowers abound in season. This is the home of many birds, including owls, woodpeckers, and osprey near the creek. Look for deer and other animal tracks in the sandy soil and mud. At around 1.5 miles (2.4 km) the trail crosses Thunder Creek on a large wooden bridge. Thunder Camp lies just on the other side, and is a wonderful destination for families or for a first backpack. Many day hikers also enjoy bird watching from the bridge or exploring the nearby gravel bars. A quarter mile past the bridge and camp, the Fourth of July Trail junction is on the left. Following this trail up 3.2 miles (5.1 km) of switchbacks to Fourth of July Pass provides beautiful mountain views, particularly from the backcountry camp. Neve Camp is a quarter mile beyond this junction, and is another lovely forested camp set well off the trail alongside the thunderous waters of the creek--which looks and sounds more like a small river at this point.
Along Thunder Creek Trail, the first open view is from a 1970 burn at about 4.5 miles (7.2 km). Here an emerging forest of young Douglas-fir and a profusion of seed bearing herbs and shrubs attract birds, rodents and their predators. Across the valley, note a newer burn from lightning strikes in 1990. Rock cliffs and McAllister Glacier provide natural fire breaks and a splendid backdrop for this evolving forest scene.
The next backcountry camps, McAllister hiker and stock, are located at mile 6.7 (10.8 km) and are a popular overnight destination. Pass the stock camp first, with a view from a high cliff down Thunder Creek. This view was created in the massive floods of 2003, when the river below shifted course significantly and carved into the cliff, suddenly bringing trail and hiker into much closer proximity to the creek! Hikers continue a short distance and cross the roaring creek on a log bridge to access the spacious and green creek-side hiker camp. The far site is a group site. Smaller Tricouni Camp lies 1.3 miles (2.1 km) beyond McAllister, in a more open salal forest, just after crossing Fisher Creek on a bridge.
From Tricouni, the trail begins its first real climb: a relentless 2.2 miles (3.5 km) gains over 1000 feet (305 m) to reach Junction Camps (hiker and stock) and a major trail junction. From the high ridge of the hiker camp, enjoy an expansive view of Boston Glacier and Tricouni Peak. From here, one may either take the Fisher Creek Trail 14.8 miles (23.8 km) over Easy Pass to SR 20, or continue on the Thunder Creek Trail to Park Creek Pass. Both ways lead to grand trail experiences.
Just past Junction, a one mile (1.6 km) side trail drops precipitously to the historic Meadow Cabins, associated with early mining activities, and located at the edge of a large swamp. The main trail drops steadily for 2.6 miles (4.2 km) into the valley through stands of old fire-scarred Douglas-fir and even-aged lodgepole pine. Then, a steep one mile (1.6 km) climb through silver fir forests brings the hiker to Skagit Queen Camp. Just beyond the camp are relics of early 1900s mining development. The water-powered generator ran an air compressor which supplied piped compressed air to drill rigs up Skagit Queen Creek. Look for signs of mining activity further along the trail. Much effort and money was expended before developers abandoned this remote and rugged land.
Above Skagit Queen, the trail rises steeply for a mile (1.6 km) into the mouth of Thunder Basin, a hanging glacial valley. More hiking through avalanche paths and stands of silver fir leads to the fringes of the subalpine zone where Thunder Basin Stock Camp is located, 2.9 miles (4.7 km) beyond Skagit Queen. Just before reaching the stock camp, ford Thunder Creek, now a much smaller but still strong creek. Do not cross during periods of high water. The hiker camp is located another mile (1.6 km) past the stock camp, in a subalpine meadow of heather and subalpine fir. Bring a portable food canister if you are camping here, as tall trees are scare and black bears common. Park Creek Pass looms above the camp, and views abound.