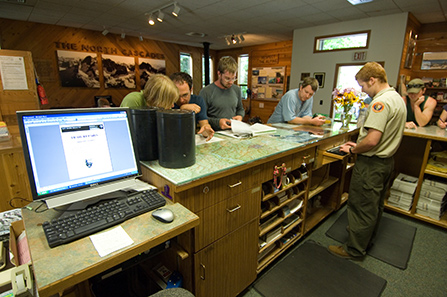 NPS/NOCA Staff

When Is a Backcountry Permit Required?
Required year round for all overnight stays in the backcountry of North Cascades National Park Service Complex (North Cascades National Park, Ross Lake and Lake Chelan National Recreation Areas).
Each party (individual or group) must obtain and carry a backcountry permit for the duration of the backcountry trip.
Permits are specific to a site (along trails or boat-in areas) or a cross-country zone each night of the itinerary. You must follow the itinerary listed on your permit.
Failure to possess and display a valid backcountry permit may result in a fine and/or immediate removal from the backcountry.
Note: Permits are not required for day use or for camping in car-accessed campgrounds along State Route 20 or at the drive-in campground at Hozomeen. Parking passes (required at USFS trailheads) do not substitute for a backcountry permit.
What Is the Cost? There is no cost for a backcountry permit. The primary objective of the permit system is to better manage the backcountry and prevent overcrowding and resource damage.
How to Get Your Backcountry Permit
There are no backcountry permit reservations! Backcountry permits are issued:
In person only
On the first day of your backcountry trip or up to one day before, but no earlier (no reservations)
On a first-come, first-served basis
Where to Obtain a Permit
Wilderness Information Center in Marblemount. Obtain permits here for all areas of the park. This center is the main backcountry permit office for the park complex, with extended summer hours to accommodate backcountry travelers. Wilderness rangers are on hand to provide firsthand trip planning advice for all wilderness and backcountry areas of the park, including Ross Lake. You'll also find current trail and camp conditions, maps, and more to assist with your trip planning.

If you will not be passing through Marblemount, you must obtain your permit at the closest ranger station enroute to your destination trailhead:

Golden West Visitor Center, Stehekin (for trips beginning in Stehekin)
Glacier Public Service Center, Glacier (for trips beginning off SR 542 or Hozomeen)
Park /Forest Information Center, Sedro-Woolley (for trips beginning from the Baker Lake Road or Hozomeen only).
Hozomeen Ranger Station (limited hours, call for information)
Methow Valley Visitor Center, Winthrop (USFS) (for trips beginning along the Twisp River Road or entering the park via Winthrop on SR 20).
Chelan Ranger Station, Chelan (USFS) (Chelan Summit Trail or for trips beginning along the Twisp River Road).
Note: All permits for the Cascade River Road are issued via Marblemount only (including Sahale, Cascade Pass, Boston Basin).
For driving directions and current hours for all National Park Service ranger stations, click here. If you have any questions about obtaining a permit, please call the Wilderness Information Center at 360-854-7245.
Winter Permits: Backcountry permits are required year round. When the Wilderness Information Center in Marblemount is closed, a self-issue permit station is available at an outside kiosk, and is accessible at any time, or permits may be obtained in Sedro Woolley (winter only). Ranger station hours are listed here.
Permits Are Limited
To protect the wilderness and visitors' experiences, the number of permits issued for each area is limited. Popular areas such as around Cascade Pass, along Ross Lake, on Copper Ridge, and at Thornton and Monogram Lakes can be very busy during the height of summer, and permits can fill quickly. The busiest climbing areas are: Sulphide Glacier, Boston Basin, and Eldorado cross-country zones. To maximize your chance of obtaining a permit and finding solitude, visit these areas midweek or after Labor Day, and have a backup itinerary or climb in mind if your first-choice area is already full. Ask a ranger for less busy alternative areas to visit. There is always somewhere to go.
Why do I need a permit?
Backcountry permits protect your wilderness experience by preventing overcrowding at camps or climbing routes, and protecting natural resources so that all visitors, including future generations, can enjoy them. Permits also serve an important safety function in the event of an emergency or wildfire, and allow managers to gather data important for decision making.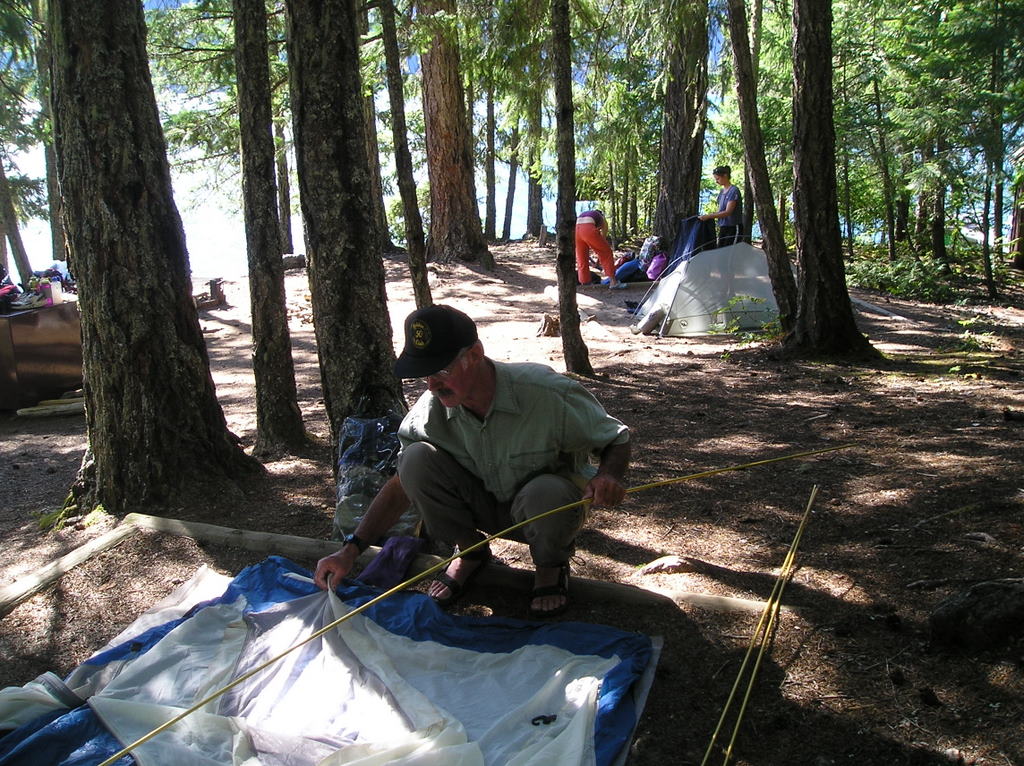 Linda Seifried