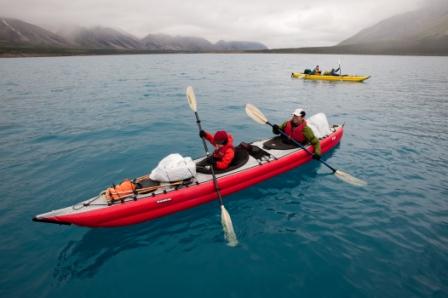 NPS Photo / Kent Miller
Spectacular wilderness adventure is easy to find at Lake Clark National Park and Preserve. Figuring out what you want your adventure to be is the first step on your journey to the park.
For those who want to dip their paddle, spin a fly rod, stretch their legs or just watch wildness in motion, Lake Clark National Park has adventure to offer.
With over four million acres of tundra, lakes, glaciers, mountains, and coastline, Lake Clark has been called a little Alaska.
There are endless opportunities to explore this wild and unspoiled land. We ask only that you keep your
safety
in mind and follow park
rules and regulations
, including
requirements for food storage
.
Permits are not required to travel throughout the park and preserve. However, for your safety, we encourage you to always establish a responsible party to ensure you get home safely. We also encourage you to fill out and give us a Voluntary Backcountry Registration. When the National Park Service is contacted regarding over-due parties this information assists Rangers with search and rescue operations. This can be filed with the visitor center in Port Alsworth either in-person or downloaded here and emailed to