Things To Do
Spectacular wilderness adventure is easy to find at Lake Clark National Park and Preserve. Figuring out what you want your adventure to be is the first step on your journey to the park. Knowing the highlights available in different areas of the park will help you use the outdoor activities section and the links to your left to further explore your options.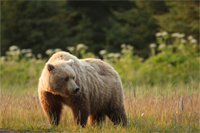 K. Jalone/NPS photo
Cook Inlet Coast
The park's coastline is across Cook Inlet from the Kenai Peninsula and the communities of Homer, Kenai, and Soldatna. The coastal meadows and streams have world-class Alaska brown bear viewing and fishing.
Visit wildlife viewing.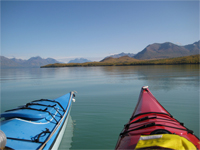 M. Richotte
Lake Clark
Lake Clark is centrally located in the park. This spectacular fifty-mile long lake offers fishing and kayaking. The private community of Port Alsworth sits on the southern shore of the lake. Port Alsworth offers visitor services such as lodging, air taxis, guide services, and kayak rentals. The Tanalian Trails network begins in town. Day hikers can chose between hikes to Tanalian Falls, Kontrashibuna Lake, and the summit of Tanalian Mountain. A small park visitor center in Port Alsworth has displays, films of the park and rangers who can help you plan your trip.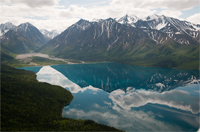 K. Miller/NPS Photo
Lakes Country
North and south of Lake Clark stunning iridescent and turquoise blue lakes stud the connection between the tundra and the Chigmit Mountains. Base camping, backpacking, and hiking options abound. The famed historic Proenneke cabin is located on upper Twin Lake north of Lake Clark.
K. Miller/NPS Photo
Chigmit Mountains and Volcanoes
Running north south through the center of the park tower the craggy Chigmit Moutains and Redoubt and Illiamna Volcanoes. Mountaineers will find both challenge and solitude. Flight-seeing through the mountains is available from air taxis along the Kenai Peninsula and in Port Alsworth.


Did You Know?
Berries are an important traditional food for the Dena'ina Athabascan people of the Lake Clark region. Seven different kinds of berries are available in the summer and fall, including blueberries, cranberries, and salmonberries.