A camping trip into Lake Clark's trail-less wilderness can be a spectacular and rewarding experience. Thorough preparation and careful trip planning will help ensure you have a safe and meaningful trip. Here you will experience undeveloped wilderness, self-reliance, and solitude to an extent seldom found elsewhere.
You may want to read more about hiking routes and destinations, too.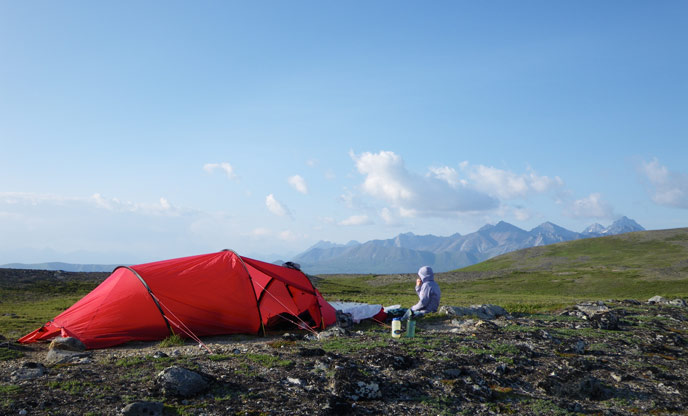 NPS Photo / Adrienne Lindholm
Wilderness Travel

Lake Clark National Park and Preserve is a trail-less wilderness, and you are free to travel where you like. Off-trail hiking employs the senses, heightens awareness and actively requires your constant participation in making decisions. You'll hike cross country, using a map and the lay of the land to get where you want to go. There are rivers to ford, bogs to avoid, and bad weather to sit out. Vegetation and terrain usually dictate the difficulty of the hiking. Plan on covering one mile per hour (allowing for errors in navigation, route selection and tough going). If you're not familiar with Alaskan terrain, be prepared to turn back and try a different route, and give yourself plenty of time to get where you're going. Keep in mind that all streams and rivers must be forded, and during high water levels, this may be impossible.
All camping is primitive, no facilities or designated campsites exist. You should use Leave No Trace guidelines to minimize your impacts. Backcountry permits for camping and hiking are not required, however there are rules and regulations governing one's behavior in all national park areas. Please do not take, shape or alter the wilderness around you.

Staying Safe

Both black and brown bears live in Lake Clark. It is critical to educate yourself about safe practices in bear country and be prepared to handle a potential bear encounter. Read up on bear safety before starting your trip.

Lake Clark is exceptionally remote and isolated. Caution, good judgment and thorough preparation will help ensure you have a fun, safe trip. Please always tell someone where you are going and when you will return. While it is not required, it is a good idea to also leave your trip itinerary with us at our visitor center in Port Alsworth before departing into the backcountry. If we get a call indicating you are overdue it makes it easier to help you.
Proper Food Storage is Required
It is extremely important that bears and other wildlife be prevented from obtaining and habituating to human food and garbage. The park offers bear resistant containers for temporary use by visitors free of charge. You can pick one up at the park visitor center in Port Alsworth. Various outfitters also have them available for rent in Anchorage for those not traveling through Port Alsworth. See the food storage requirements. Please ask before you go if you have any questions.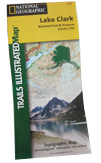 Maps
National Geographic's Trails Illustrated Map of the entire park is an excellent planning tool. It is available for purchase in the park's visitor center in Port Alsworth or through Alaska Geographic. For navigation more detailed maps such as the USGS 1:63 360 are necessary. These maps may also be purchased in the park's visitor center or are available through the USGS's on-line store.
Access
Access to the park is with small aircraft. See the directions and getting around pages for more information. You can plan a pick-up and drop-off in the same spot or travel from your drop-off to your pick-up location. Don't forget to arrange a pick-up with your air taxi and agree with your pilot on what to do if the trip doesn't go as planned. Travelers also need to be prepared for the possibility of inclement weather delaying scheduled pick-up, possibly for several days.

Gear Rental and Guide Services


For many people, guided trips are an excellent way of experiencing the Lake Clark wilderness. Others may want to travel on their own but need access to equipment that doesn't need to be flown to the park. Find information on authorized guides and local outfitters.

Campsites
Lake Clark National Park and Preserve is primarily a trail free wilderness where travelers may camp where they like. There is a camping area on Upper Twin Lake just west of the Proenneke Historic Site. Tulchina Adventures offers rustic camping in Port Alsowrth.
Know the Rules
Helps us care for Lake Clark National Park. Know the rules before you go.
Read more about park laws and policies