Visit Richard Proenneke's Cabin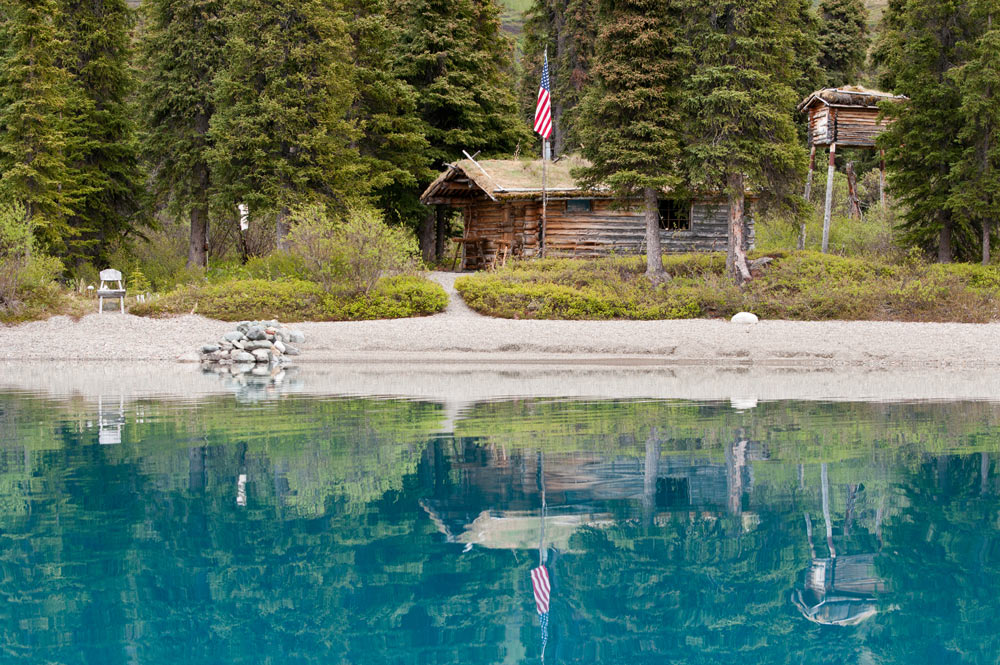 NPS Photo / Kent Miller
Step into the home of one of Alaska's foremost wilderness icons. Sit at Richard Proenneke's writing desk where he wrote his famous journals and gaze out at the view of Upper Twin Lake. Explore the cabin and surroundings on a tour with a National Park Volunteer. Take a hike to Teetering Rock and imagine the thousands of miles Dick Proenneke wandered in his thirty years at Upper Twin Lake. The cabin is managed as an outdoor exhibit and is usually staffed throughout the summer by National Park Volunteers who are available to give tours of Richard Proenneke's home.
Getting Here

The Richard L. Proenneke National Historic Site is usually accessed via small aircraft that land on Upper Twin Lake. Visitors often arrive from Anchorage or Port Alsworth but any air taxi, from any location that has planes equipped with floats, would be able to land. Visit our directions page for a listing of authorized air taxis and their locations.
Operating Hours and Seasons
Late May - Late September
The Proenneke Cabin is open to the public daily during the summer months. Park staff are located on site and available to give you a tour upon your arrival or at any time during your stay. Tours are not scheduled, reservations are not required, and there is no fee.
Late September - Late May
The Proenneke Cabin is locked during the winter months. You may explore the area year round, but may only enter the cabin in the summer months. The spring opening date of the historic cabin is tentative due to ice melt. Please contact the chief of resource and visitor protection at (907) 644-3647 with questions or concerns.
NPS Photo
Protecting a Treasure
Help us protect Dick Proenneke's cabin so that generations of visitors will be able to experience what it has to offer. The site is managed as an exploratory exhibit.
Leave everything you find behind. Removal of artifacts from public land is prohibited by law.

The tundra is fragile. Even Dick Proenneke admonished his guests to stay on his trails to protect the vegetation. Please stay on the trails.

Be gentle with the door.The handcrafted door mechanisms are fragile and have been repaired.

Camping at this site or occupancy of this structure is prohibited. 36CFR13.126 The cabin is not a public use cabin. No fires are allowed in the stove, fireplace or any other location.
Help us care for this special place. Damage to the site, structures, furnishings, fixtures or any part of the Historic Site is prohibited (36CFR2.1). Please report any damage or suspected violation to the National Park Service at 907-781-2218

Thank you for your assistance!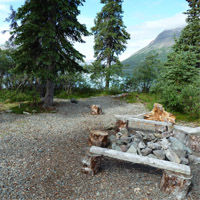 Camping Nearby
A few hardened tent sites with an "outcan" are available for overnight camping on a first come, first served basis across Hope Creek from the Proenneke cabin. You must be prepared for a creek crossing to access the Proenneke cabin from the camping area. Bear resistant food containers are required when camping anywhere along the lake shoreline and may be borrowed from the visitor center in Port Alsworth or commercially in Anchorage. The park strongly encourages
Leave No Trace
principles.
The Twin Lakes area is one of the busiest camping and backpacking areas in the park. For this reason, between April 15 and September 30 camping within two miles of Upper or Lower Twin Lakes is limited to a total of 21 days and camping at Hope Creek campsite is limited to a total of 14 days. There are no time restrictions October 1 - April 14.
Extend Your Visit
Many people chose to extend their visit to Lake Clark National Park and Preserve. There are options for
backpacking trips
that begin or end at the cabin or camping on Twin Lakes and hiking the shorelines or
paddling
the lakes with kayaks. Visit the
getting around
page for guided trip options.
Richard L. Proenneke National Historic Site
National Historic Sites are places recognized by the National Park Service for their significance in American History. The Richard L. Proenneke National Historic Site was listed on the National Register of Historic Places in 2007 in recognition of its stature as an excellent and well-known example of an Alaskan bush log cabin. It is also recognized for Richard Proenneke's voice in the preservation of wilderness in Alaska. Proenneke's interests, talents and circumstances made him influential in shaping and educating the public about the wisdom of conservation of our natural world.
Richard L. Proenneke
The source of Sam Keith's book, One Man's Wilderness: An Alaskan Odyssey, Richard Louis Proenneke (1916-2003) embodies humanity's fascination with wilderness.
Learn about the Proenneke Cabin
Proenneke's cabin at Twin Lakes stands out for the remarkable craftsmanship that reflects his unshakeable wilderness ethic. He built the cabin using only hand tools, many of which he fashioned himself.