Directions
Click here to download a larger map.
Lake Clark National Park and Preserve is not on the road system; therefore, access is primarily by small aircraft. Fixed-wing aircraft are allowed to land on all suitable lakes, rivers, beaches, gravel bars, and open ground in both the Park and Preserve unless the area is closed or otherwise restricted. When weather and tides permit, the east side of the park on the Cook Inlet coast may be accessed by boat in addition to aircraft.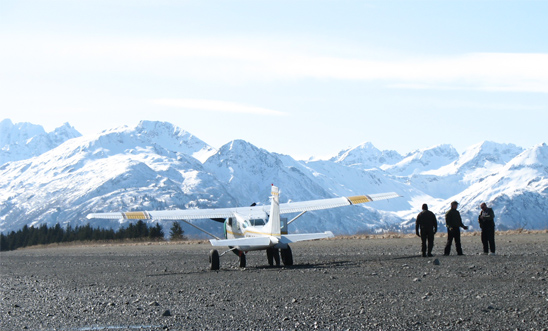 NPS Photo / M. Richotte

Air Charter Services


A one to two-hour flight from Anchorage, Kenai or Homer will provide access to most points within the Park and Preserve. The following air taxi operators are organized by the park location they most often travel to and their community of origin. However, they are not limited to those destinations, and may land anywhere in the Park and Preserve. Prices depend on group size, type of airplane, length of flight, and where the flight originates. Air taxi operators can be helpful in determining the most efficient way to reach your destination, so don't feel limited to the locations listed below.
Please note that this page lists only air taxi operators that can transport you into the Park and Preserve. Please visit the "Getting Around" page of our website to see a full list of companies that are authorized to provide equipment rentals and guided services in the Park and Preserve.
Coastal Areas (Including Silver Salmon Creek, Chinitna Bay, Tuxedni Bay and Crescent Lake)
Traveling from Homer
Adventure Airways, Emerald Air Service, Cook Inlet Aviation, Homer Air, K-Bay Air, Smoky Bay Air

,

Stellar Air Service, Beluga Air (float plane only), and Northwind Aviation (float plane only).


Traveling from Kenai / Soldotna / Nikiski
Alaska West Air, High Adventure Air, Natron Air, and Talon Air Service.


Traveling from Kodiak
Andrew Airways
Inland, Remote Points (including Dick Proenneke's Cabin, inland lakes and rivers, mountains and volcanoes)


Private Aircraft


Park and Preserve lands and waters are open to fixed-wing aircraft.
Fuel is available in Port Alsworth from Lake Clark Air (wheels and floats) and Lake and Peninsula Airlines (wheels). Fuel with both float and wheel access is also available south of the park in Iliamna.


Airstrips in Port Alsworth are private and a ramp fee may be charged. Contact Lake Clark Air or Lake and Peninsula Airlines (Wilder/Natwick) regarding use of their airstrips and tie down options. Pilots should confirm up to date information with private businesses. The Wilder/Natwick runway (05R- 23L) is in the Alaska Supplement.


Live-feed aviation weather webcams operated by the Federal Aviation Administration are an important tool that can help pilots maintain a continuous weather watch. Cameras located in the Lake Clark area include: Nondalton, Lake Clark Pass East, Lake Clark Pass West, Lake Clark Pass RCO, Merrill Pass High, and Merrill Pass Low. Too see current images, look for the name of the desired camera on the FAA webcam site list.


Weather stations are another tool that can help pilots obtain current weather conditions. They record and archive hourly weather observations including wind speed and direction, snow depth, and air temperature. Stations located within Lake Clark National Park & Preserve include: Chigmit Mountains, Hickerson Lake, Port Alsworth, Silver Salmon Lakes, Snipe Lake, and Stoney.

In addition to supporting real-time needs, the four weather stations operated by the National Park Service's Southwest Alaska Inventory and Monitoring Network (SWAN) are intended to also provide reliable climate data that can help researchers understand ecosystem changes, identify natural variability in weather, and identify long-term climate trends. Learn more about weather and climate science being conducted in the park on the SWAN website.
Download a park map that includes approximate locations of select FAA webcams and NPS weather stations. For exact locations, please visit the website for each webcam or weather station using the links above or those inbeded in the map.
Boat


Several charter boat services on the Kenai Peninsula offer tours that include portions of the Lake Clark coastline, drop-off and pick-up services, or custom charters.
Car


There is no road access to Lake Clark National Park and Preserve.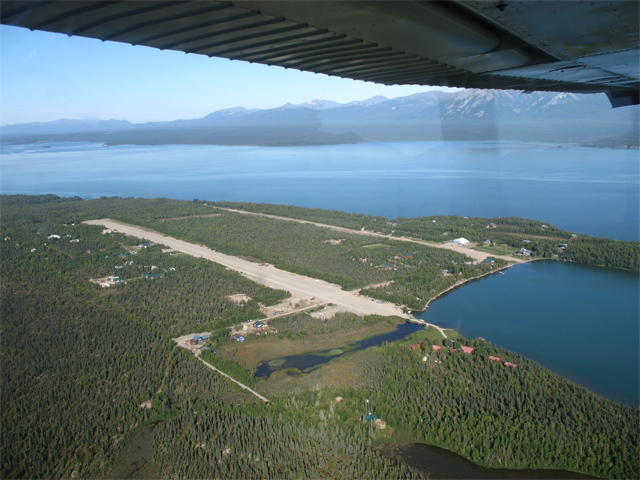 NPS Photo / M. Richotte

Still Confused?
See Plan Your Visit for an overview of the park's attractions.
See Things To Do for a list of ways to see the park and to choose your experience.
Flying in a Small Plane
Flying in a small plane - also called a bush plane - can be an exciting experience, and very different from the passenger experience on a commercial jet. The short video below captures some of the feel of a bush plane flight.
Climb aboard this Cessna 170 for a beach landing at Chinitna Bay.

Note: Audio is engine noise only.  There are no captions.

Duration:

1 minute, 47 seconds

Credit/ Author:

Megan Richotte

Date created:

2012-02-22


Did You Know?

Caribou often travel high into the mountains in the summer to rest on patches of remaining snow and ice, where they can escape clouds of biting insects.