Fishing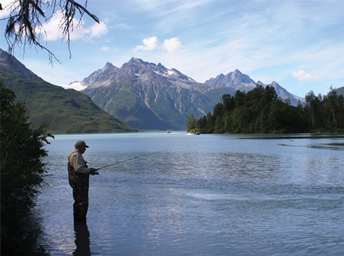 NPS Photo / M. Richotte
Lake Clark provides excellent fishing opportunities for adventurous anglers. The park and preserve includes some of the most pristine fishery habitats in the National Park system. In fact, one of the original purposes in the founding legislation is preservation of the watershed for the perpetuation of the red salmon fishery.
This fishing season runs primarily from May through October, with the peak season in July and August. Lakes may not be ice free until June.
This page provides information on:

Mountain lakes and streams nestled among the jagged spires of the Alaska Range contain a combination arctic char, arctic grayling, Dolly Varden, lake trout, rainbow trout, northern pike, and several species of salmon. Listed below are just a few places you can try your luck.
Crescent Lake
Located in the heart of the spectacular Chigmit Mountains, it's no wonder Crescent Lake is the park's most popular fishing destination.
Silver Salmon Creek
Anglers at Silver Salmon Creek will find themselves in the company of brown bears.
Key:

● = Present
 = Uncommon
○
= Probable


Crescent
Lake
Kijik
Lake
Kontrashibuna
Lake
Lake
Clark
Snipe
Lake
Telaquana
Lake
Turquoise
Lake
Twin
Lakes
Chinook/King
Salmon
●
●
●
Chum/Dog
Salmon
●
Coho/Silver
Salmon
●
Humpback/Pink
Salmon
●
Sockeye/Red
Salmon

July to

●

Arctic Char
●
●

●
●
Arctic Grayling
●
●
●
●
●
●
Burbot
●

●

●
●
Dolly Varden
●

●
●
●
●
Lake Trout
●
●
●
●

●

●
●
●
Northern Pike
●
●
Rainbow Trout



Chilikadrotna
River
Chokotonk
River
Chulitna
River
Kijik
River
Mulchatna
River - salmon
below
Bonanza Hills
Silver Salmon
Creek
Tanalian
River
Tlikakila
River
Chinook/King
Salmon
July to Oct

●

Chum/Dog
Salmon
July to Oct
●
Coho/Silver
Salmon
●

Aug to Sep
Humpback/Pink
Salmon
●
●
Sockeye/Red
Salmon

July to Oct

●
●

●

●




●
●

Arctic Char
○
●
○

Arctic Grayling
●
●
●
●
●
Burbot
●
●

●

●
Dolly Varden
below
Bonanza Hills
○
●
●
●
○

Lake Trout
upper mile


●

Northern Pike
●

●

○

Rainbow Trout
●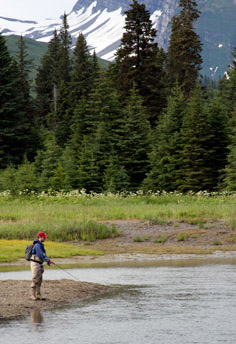 NPS Photo / K. Jalone
Fishing in Bear Country
It is important that we don't teach bears that anglers can provide an easy meal!
Bears Have Rights to the Prime Fishing Sites
Fish are a critical food source for bears; give them plenty of time and room to fish.
If a bear approaches while you are fishing, ensure you are not blocking its path. Back away from the shore and allow the bear to pass or fish.
Find a new fishing site if yours is claimed by a bear.
Splashing Fish Attracts Bears
If a bear is near enough to notice a fish splashing---STOP FISHING!
If a bear approaches while you have a fish on the line, give it slack or cut the line to eliminate splashing and prevent the bear from taking the fish away from you.
If a bear attempts to take fish from you, surrender your catch to the fast moving current.
Secure Your Catch
Fish remains attract bears. Clean your fish at the beach or shore and cast all remains into the ocean, lake, or river.
If there are bears on the beach, it may be best to wait until you leave the area to clean your fish.
Immediately store your fish in a bear-resistant container (available from your guide or from the ranger station at Silver Salmon Creek or the Visitor Center in Port Alsworth).
Fish and Travel in the Open
Avoid places where geographic factors, such as heavy cover, prevent you from seeing what's ahead.
Be alert and noisy in areas where the sound of running water may prevent you from hearing bears, and vise versa.
Remember, bears that are surprised are dangerous.
Catch and Release Fishing
The National Park Service strongly supports catch and release fishing and suggests all visitors comply with this conservation program.
Why Catch and Release
The National Park Service strives to maintain park resources in a natural, unaltered condition. native fish contribute to nutrient recycling and help maintain natural ecosystem processes when they live out their entire life cycle, from spawning to death, in the aquatic system. Catch and release fishing improves native fish populations by allowing more fish to remain and reproduce in the ecosystem. This practice provides an opportunity for increasing numbers of anglers to enjoy fishing and to successfully catch fish. Releasing all native fish caught while in a national park will ensure that enjoyment of this recreation opportunity will last for generations to come.
Tackle
Gear type is perhaps the most important factor affecting whether a fish will survive being caught and released.

Use artificial lures or flies - Use of bait often results in deeply ingested hook and mortality upon removal.
Use rod, reel, and line of sufficient strength to quickly land the fish - Long struggles may significantly increase mortality rate.
Use properly sized single circle or barbless hooks - Single hooks are typically more easily removed than treble hooks and usually result in less handling time and reduced injury to both anglers and fish.
Landing the Fish

Avoid playing fish to exhaustion - Lactic acid buildup in muscle tissues will reduce fish survival. More lactic acid accumulates the longer a fish is played.
Use a landing net - This reduces handling time, avoids injury potential, and reduces stress to the fish. Landing nets with small, soft or knotless mesh are best.
Avoid injury - Keep your fish in deep water until it is netted or released. Fish landed in shallow water can injure themselves by thrashing around. This causes loss of mucus or skin damage, which can affect survival.
Handling Your Catch

Avoid removal from water - Removing fish from the water can result in suffocation and/or internal injury depending on fish size, removal duration, and handling technique. Avoid allowing a fish to thrash around on the shore or in the boat.
Use wet hand or wet gloves - Wet hands or gloves will help reduce loss of a fish's protective mucus. Mucus helps the fish fight fungal growth and other skin diseases.
Keep fish properly supported - Avoid removing large fish from the support of the surrounding water any more than necessary. When lifting, cradle the fish gently with one hand under the belly and the other hand near its tail.
Avoid squeezing - Squeezing can easily cause damage to internal organs and muscle tissue. This can best be avoided by not removing the fish from the net until you are ready to let it go.
Avoid touching the gills - Gills are a particularly sensitive and fragile organ that can be easily damaged. Any fish bleeding from the gills has a poor chance of survival sand should probably be retained.
Hook Removal

Keep fish wet and calm - Remove the hook quickly while allowing the fish to remain as calm as possible in the water. Keeping your fish contained in the net during hook removal can reduce the need for squeezing and additional injury.
Use the right tool - Needle-nosed pliers or hemostats are an essential tool for quick and efficient hook removal. various hook removers are also commercially available. If the fish is hooked deeply or the hook cannot be removed, the fish may need to be retained.
Photographing Your Catch

Preplan the photograph - Keep your fish wet and calm until you are ready for the photograph. Crouch down near the water surface to avoid lifting the fish far from the water. Have the photographer pre-position and focus the camera before lifting your fish.
Get a good grip - When all is ready, hold your fish firmly by the tail while placing the other hand under its belly (avoid touching the gill area).
Wait for the fish to become accustomed to your touch - When the fish has calmed, lift it briefly out of the water and quickly capture the image. If multiple images are planned, calm the fish in the water before lifting again.
Reviving Your Catch

Avoid early release. Hold until revived - Revive your fish by holding it upright underwater. Support the fish gently from underneath. Ensure it is ventilating and has regained its equilibrium before release. Hold the fish until it swims forcefully away on its own.
Orient into the current but avoid too fast or turbulent areas - Facing the fish into the current allows water to pass over the gills allowing the fish to "catch its breath." Consider the need to move the fish to calmer water where it can swim easily away on its own without being swept away or injured by fast moving or turbulent water. In lakes or other still water bodies, move fish gently back and forth to force water over the gills if the fish does not appear to be ventilating.
State of Alaska Fishing Regulations
Anglers are required to abide by all state of Alaska fishing regulations. Licenses can be purchased at most lodges in Port Alsworth, and tags can be obtained at Lake Clark Air.
Fish
Learn about the fish that live in Lake Clark National Park and Preserve.
Staying Safe in Bear Country
Find more information on staying safe while visiting bear country.
Getting to Lake Clark
Most visitors arrive by small plane. Find an air taxi service that will suit your needs.
Watersheds
Learn more about the two watersheds that provide these excellent fishing opportunities in Lake Clark National Park and Preserve.
Mercury in Fish
Lake Trout and Northern Pike in some locations throughout the park and preserve contain unusually high levels of mercury.