Fishing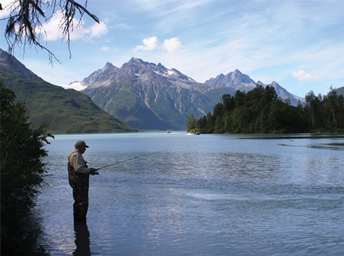 NPS Photo / M. Richotte
Lake Clark includes some of the most pristine fishery habitats in the National Park System. In fact, one of the park's original purposes is preservation of the watershed, for the perpetuation of the red salmon fishery.
Mountain lakes nestled among the jagged spires of the Alaska Range contain a combination of arctic grayling, Dolly Varden, several species of salmon, lake trout, and northern pike.

The abundance and diversity of game fish species in the waters of the park and preserve attract sport fishers from around the world. There are a number of authorized sport fishing guides who customize guided fishing adventures for anglers of all ages, abilities and experience.


Regulations and Best Practices

Federal regulations require an Alaska fishing license and compliance with all State of Alaska fishing regulations. Licenses and tags can be acquired in Anchorage or in Port Alsworth. Most lodges in Port Alsworth sell licenses, and tags can be obtained at Lake Clark Air.


The National Park Service strongly supports catch and release fishing and suggests all visitors comply with this conservation program. If you do decide to keep the fish you catch, you must comply with requirements for securing your catch from bears and other wildlife.


Read up on how to stay safe in bear country.


Where and When to Fish
Good lake fishing can be found at Two Lakes, Twin Lakes, Telaquana Lake, and Turquoise Lake. Lake Clark itself is fished for grayling, lake trout, Dolly Varden, northern pike, and red salmon. Other lakes that provide opportunities for recreational fishing include Kontrashibuna, Crescent, Portage, Lachbuna, Kijik, Fishtrap, and Tazimina Lakes, in addition to many smaller lakes.
Two of the three wild and scenic rivers, the Mulchatna and the Chilikadrotna, provide exceptional rafting experiences and the opportunity to fish for red and king salmon, grayling, Dolly Varden, and rainbow trout.

The Tlikakila River, although an excellent float trip, is too glacial to support a sizeable population of game fish. The lower Chulitna River, with its non-glacial waters flowing through tundra and marshes in the southern preserve, has northern pike. Other rivers which will provide good fishing opportunities in and around the park include the Tanalian, Kijik, Tazimina, Necons, Stony, and Telaquana Rivers and Currant Creek.
Several streams flow southeast into Cook Inlet, providing habitat for spawning red and silver salmon. These include the Crescent and Johnson Rivers in addition to Shelter and Silver Salmon Creeks. Adjacent saltwater provides good opportunity to fish for halibut.
The fishing season runs primarily from May through October, with the peak season in July and August. Lakes may not be ice free until June. Frost and snow can occur at any time but should be expected by September or October.
Access to Lake Clark is almost exclusively by small aircraft. Float planes land in the many lakes throughout the area, and wheeled planes can sometimes land on beaches and gravel bars. Autorized Air Taxi Services are listed on our directions page and are available from Anchorage, Kenai, Homer and the local area. There are several commercial lodges in the Lake Clark area which cater especially to recreational anglers. Other services available may include day-use transportation, fishing guides, and boat rentals.