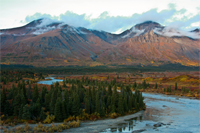 NPS Photo / Kevyn Jalone
Chilikadrotna National Wild River
Maps
: USGS 1:63 360 series topographic Lake Clark C3, C4, C5, C6, C7
The Chilikadrotna River originates from Chigmit Mountains (a sub-range of the Alaska-Aleutian ranges) at Twin Lakes and flows west through its foothills approximately 9 miles to the border of Lake Clark National Park and Preserve then re-enters the Preserve for 2.6 miles. The river continues an additional 35 miles through state land before joining the Mulchatna River.
Although access via float plane to the outlet of Lower Twin Lake is straightforward, weather can be harsh, and the terrain is rugged and remote. Since there are no pick up spots near the confluence of the Chilikadrotna and Mulchatna Rivers, floaters must travel 20 miles downstream on the Mulchatna River to Dummy Creek for pick up by float plane. Or they can travel an additional 20 miles to Marabou Landing for a pick-up by float or wheel plane. Most float the river for five to seven days, well past the confluence with the Mulchatna, and longer trips are possible (including a conceivable several-weeks long trip to Dillingham on Bristol Bay via the Mulchatna and Nushagak). For most of the first 12 miles that are inside the park, the river is a fast-flowing Class I-II single-thread channel boatable in canoes, kayaks, rafts, or pack rafts.
A few riffles may offer Class II/III challenge, and boaters must possess sufficient skill to avoid occasional sweepers or tight turns, but the river is generally free of major log jams or portages. There is also a 3.5 mile reach with slower water. Large sand or gravel bars are frequent throughout the corridor, offering plentiful places to fish and camp. This provides considerable schedule flexibility, as most bars have flat places for tents and abundant firewood (particularly as one travels downstream).
River rating
: WW III - FW
Best time of year
: June - September
Common trip lengths
: 70 to 200 miles when combined with Mulchatna on its lower end (only the first 12 miles are listed as wild).