NEW Overnight parking system

Before parking a vehicle overnight in any Canal Parking area, visitors must register their vehicle through the new online registration system. Print your reciept and place on your dashboard. If unable to print, please visit the nearest visitor center. More »
Water Pump Handles Temporarily Removed

Water pump handles at Bald Eagle Island and Huckleberry Hill Hiker Biker Campsites have been removed due to bad water samples. Handles will be reinstalled when good water samples are received.
Boat Tours at Great Falls

Due to low water levels in the Great Falls area, call the Great Falls Tavern Visitor Center (301-767-3714) in advance of your trip to confirm the mule-drawn boat tour schedule.
Parking Lot Closure

CSX is now beginning a phase of their bridge project that requires the closure of the Lock 74 parking lot for approximatly 18 months. Access to visitor parking near Lock 75 is now re-opened with a gravel parking lot at the site.
Great Falls Tavern Visitor Center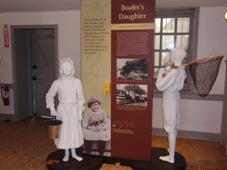 NPS photo
11710 MacArthur Blvd., Potomac, MD 20854 (301-767-3714).
Open year round, Wednesday through Sunday from 9 AM to 4:30 PM. Closed Mondays and Tuesdays.
The Great Falls of the Potomac have drawn people to the river's shore for centuries. To Native Americans it was a gathering place, to George Washington it was an impediment to navigation, to thousands of visitors every year it is an awe-inspiring site. Tourists have been drawn to the Great Falls of the Potomac long before there was a canal. The Great Falls Tavern carries on a long tradition of hospitality for visitors to the C&O Canal. Soon after the canal's ground breaking in 1828 construction began on the original lockhouse. In response to travelers' requests for shelter and a meal, the locktender here at Great Falls, W.W. Fenlon, asked the Canal Company to build the three-story north wing for a hotel. Proposing himself as innkeeper but adding, "Mrs. Felon is better calculated for Land Ladie," he wrote. The hotel opened for business in 1831. The entrance door invited guests into a large, windowed room with fireplaces and a bar. As the inn's first proprietor Mr. Fenlon presided over lively entertainment like fishing parties, dances and social events in the "ballroom," in addition to good dinners and a place to sleep. A community of over 100 people grew nearby with shops and a post office. The National Park Service offers interpretive programs year round and boat rides in the spring, summer and early fall. Please call the visitor center for information at 301-767-3714.
Directions:
From Interstate 495:
Maryland: Take exit 41 (Carderock /Great Falls, MD), follow Clara Barton Parkway to the end. At the stop sign, turn left onto MacArthur Blvd. Follow MacArthur approximately 3.5 miles into the park. MacArthur Blvd. ends at the park.
Virginia: Cross into Maryland over the American Legion Bridge (beltway inner loop) and take exit 41 (Clara Barton Parkway) Westbound, left at fork. Follow Clara Barton to the end. At the stop sign, turn left onto MacArthur Blvd. Follow MacArthur Blvd approximately 3.5 miles into the park. MacArthur Blvd. ends at the park.
From Washington DC:
Take M Street to fork. You can follow either MacArthur Blvd, the right fork or take Canal Road, the fork to the left.
MacArthur Blvd.: Follow MacArthur until it ends at the entrance to the Great Falls section of the park, approximately 8 miles.
Canal Road: Follow to Chain Bridge. At stop light continue straight ahead. Canal Road changes into Clara Barton Parkway. Follow Clara Barton Parkway to the end. At the stop sign, turn left onto MacArthur Blvd., and follow it for approximately 3.5 miles until it ends at the park.
From Frederick, Maryland:
Follow Interstate 270 south toward Washington, DC. Take exit 5 (Falls Road). Exit right toward Potomac on Falls Road. Follow Falls Road 6 miles until it intersects with MacArthur Blvd.. At stop sign turn right into the park.
Related Sites:
www.homestead.com/silverspringhistory www.mdarchives.state.md.us
www.montgomeryhistory.org
www.cvbmontco.com
Visitor Centers
| Brunswick | Cumberland | Georgetown | Great Falls Tavern | Hancock | Williamsport |


Did You Know?
Canal historians estimate approximately 35,000 laborers helped dig the canal as well as build aqueducts, culverts, locks, lock houses, etc. It took 22 years to build the canal from Georgetown, DC to Cumberland, MD. Much of the workforce were immigrants from Ireland and western Europe. More...