Hiking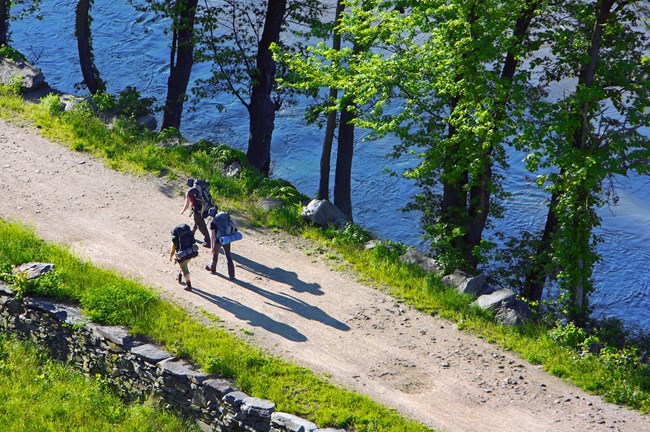 Hiking
Several park areas have interpretive trails and other hiking opportunities. Aside from the towpath, there are many great hiking trails in the Park: the Tunnel Hill Trail near the Paw Paw Tunnel, the Ferry Hill Trail near Sharpsburg, as well as 14 miles of trail near Great Falls (including the Billy Goat Trail).
Hiking Tips:
· Bring water and food
· Wear sturdy footwear
· Be prepared for changing weather conditions
· Know your location
· Share the towpath with other users
· Pack out all trash. Trash bags are provided at dispensers located throughout the park.
Connecting Trails
The C&O Canal NHP also connects to the Potomac Heritage Trail, the Appalachain National Scenic Trail, and the Captain John Smith Chesapeake National Historic Trail.
Multi-day Trips
Lodging
Camping: Hiker-Biker and Drive-In campsites are located from Swains Lock to Cumberland.
Lockhouses: The C&O Canal Trust's Canal Quarters program offers several lodging options in lockhouses along the canal. Reserve a lockhouse today!
Canal Towns: Another great resource for learning more about what surrounding towns to the towpath have to offer is the Canal Towns Partnership website.
Well Water
Potable water is generally available in Drive-In Campgrounds from mid-April (around the 15th) to mid-November (around the 15th). Non-potable water is available at Hiker-Biker Campsites year-round, approximately every 5 to 7 miles.
Drive-In Campgrounds: Well water within the drive-in campgrounds is potable and treated with iodine - do NOT drink if you have any iodine allergies or if you are on medication for an overactive thyroid. In general, well water is clean and able to be used without additional treatment. However, as a general precaution for wells located in a flood zone, you are advised to boil or treat the water before use for your own protection.
Hiker-Biker Campsites: Non-potable water is available in hiker-biker campsites. Please plan to filter, chemically treat, or boil the water before use for your own protection. The wells will remain in the hiker-biker campsites and, as long as visitors bring their own sanitization equipment, there will be a more reliable water source as handles will not be removed from these wells.
Water availability is subject to change. Always bring plenty of water with you as a backup option. Please plan your trip accordingly.
Overnight Parking
No overnight permits are required for vehicles in Chesapeake and Ohio Canal parking lots. The National Park Service is not responsible for cars or their contents; do not store valuables in cars.
Trash
This is a trash free park; take all trash away.

Last updated: May 27, 2023