Water Pump Handles Temporarily Removed

Evitts Creek Hiker-Biker Campground water pump handle has been removed due to bad water samples. Handles will be reinstalled when good water samples are received.
Parking Lot Closure

CSX is now beginning a phase of their bridge project that requires the closure of the Lock 74 parking lot for approximatly 18 months. Access to visitor parking near Lock 75 is now re-opened with a gravel parking lot at the site.
Boat Rides at Great Falls

Regularly scheduled tour times for the mule-drawn canal boat at Great Falls have changed. In July and August 2014 tours will be offered Saturdays and Sundays at 11:00, 1:30 and 3:00. More »
Great Falls Canal Boat Rides
Please note the 2014 schedule is subject to change. We will attempt to keep this webpage as up-to-date as possible.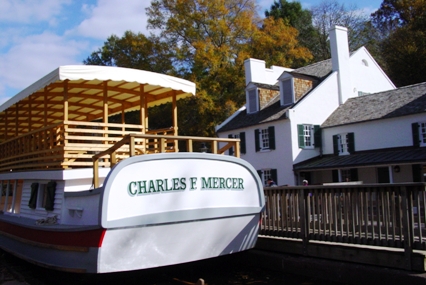 Great Falls Mule Drawn Boat Rides
Take a trip back in time to the 1870's! Ride along the historic C&O Canal in a boat pulled by mules. Experience rising 8 feet in a lock. Hear park rangers in period clothing describe what life was like for the families that lived and worked on the canal. Enjoy life at a slower pace.
$8.00 for adults (ages 16-61), $6.00 for seniors (ages 62 +), and $5.00 for children (ages 4-15). Children aged three and under ride free.
Ten or more people are required to make advance reservations on either boat. Otherwise, seats are available on a first-come, first-serve basis.
The Charles F. Mercer boat capacity is 65 people. The boat programs last approximately one hour.
Public Boat Tours - July & August 2014
Saturday & Sunday - 11:00am, 1:30pm, 3:00pm
Please call ahead as special circumstances may affect this schedule.
To Reserve Tickets for a group of 10 or more
Please call one of the following numbers:
During Visitor Center operating hours (Wednesday through Friday, 9:00AM to 4:30PM) one of our rangers will be happy to assist you with making a reservation on the Charles F. Mercer canal boat at Great Falls. The Visitor Center desk can be reached at 301-767-3714.
After Visitor Center operating hours, you can leave a message on our Boat Reservation Line 301-714-2217. You will be contacted by a ranger to confirm the details of your reservation. Please make sure you speak with a ranger before the day of your requested boat tour.
Please note, on Mondays and Tuesdays no confirmations are made. The Great Falls Tavern Visitor Center is closed on Monday and Tuesday. You will be contacted during Visitor Center operating hours.
Thank you!
Did You Know?

The Paw Paw Tunnel is 3,118 feet long and is lined with almost six million bricks. The 2/3 mile long tunnel saved the canal builders almost six miles of construction along the Paw Paw bends of the Potomac River. The project took twelve years to complete. The tunnel was only wide enough for single lane traffic. More...