Great Falls Canal Boat Rides
Please note the 2013 schedule is subject to change. We will attempt to keep this webpage as up-to-date as possible.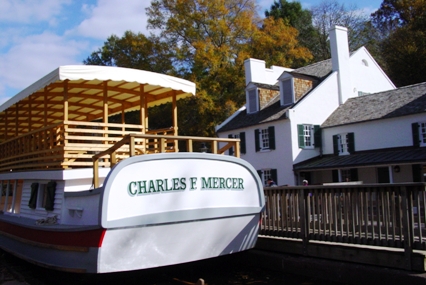 Great Falls Mule Drawn Boat Rides
Take a trip back in time to the 1870's! Ride along the historic C&O Canal in a boat pulled by mules. Experience rising 8 feet in a lock. Hear park rangers in period clothing describe what life was like for the families that lived and worked on the canal. Enjoy life at a slower pace.
$8.00 for adults (ages 16-61), $6.00 for seniors (ages 62 +), and $5.00 for children (ages 4-15). Children aged three and under ride free.
Ten or more people are required to make advance reservations on either boat. Otherwise, seats are available on a first-come, first-serve basis.
The Charles F. Mercer boat capacity is 60 people. The boat programs last approximately one hour.
Public Boat Tours: Offered April through October.
Summer Schedule: Wednesday- Sunday 11:00am, 1:30pm, 3:00pm
Please call ahead as special circumstances may affect this schedule.
Rates of $5 per person are sometimes available for groups of students (includes chaperones). Please call 301-767-3714 for details.
Did You Know?

The C&O Canal begins in Georgetown. The canal made extra money by selling water to numerous factories in Georgetown to power water driven machinery such as water wheels, etc. Many factories were located next to canal property. More...