No Access to Kin Bineola

There is currently no access the the Kin Bineola Great House due to road damage.
Places To Go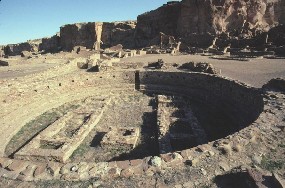 Dave Six
Self-Guided Tours along the Canyon Loop Drive
Most of the park and cultural sites are self-guided year-round. Six major sites are located along the 9-mile long Canyon Loop Drive. These sites include: Una Vida, Hungo Pavi, Pueblo Bonito, Chetro Ketl, Pueblo del Arroyo, and Casa Rinconada. You may purchase self-guided trail brochures at the Visitor Center bookstore.


Did You Know?

While the rocks at Chaco Canyon are the same type of rocks as found at Mesa Verde National Park, there are no large alcoves at Chaco Canyon. A layer of clay in the sandstone at Mesa Verde causes alcoves to form and that layer is missing in Chaco Canyon. More...