Kin Bineola and Kin Ya' a Great Houses CLOSED

There is no public access.
Places To Go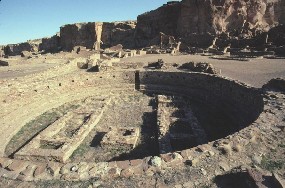 Dave Six
Self-Guided Tours along the Canyon Loop Drive
Most of the park and cultural sites are self-guided year-round. Six major sites are located along the 9-mile long Canyon Loop Drive. These sites include: Una Vida, Hungo Pavi, Pueblo Bonito, Chetro Ketl, Pueblo del Arroyo, and Casa Rinconada. You may purchase self-guided trail brochures at the Visitor Center bookstore.


Did You Know?

Richard Wetherill came to Chaco Canyon in 1896 and worked with the American Museum of Natural History. He operated a ranch and trading post there until his death in 1910. To keep warm during the frigid Chaco winters, Richard burned low-grade coal from a mine he constructed.