Kin Bineola and Kin Ya' a Great Houses CLOSED

There is no public access.
Visitor Center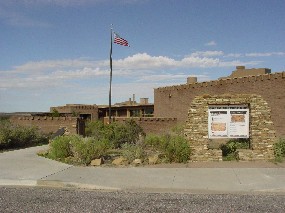 Russ Bodnar
We are the process of a substantial remodeling of our Visitor Center.
The Visitor Center at Chaco Culture National Historical Park is open all year from 8 a.m. to 5 p.m.
There is a staffed information desk where rangers can help you plan your visit. A video is shown throughout the day in the auditorium.
The museum in the Visitor Center features exhibits on the cultural history of Chaco Canyon.
Books, videos, postcards, posters, tee-shirts, etc. are available in the Western National Parks Association bookstore within the Visitor Center.
The Visitor Center is closed on Christmas, Thanksgiving, and New Years Day.
Did You Know?
Chaco harbors many insects, moths, spiders, and butterflies in the summer months. One of these known as the cat-faced spider (Araneus illudatus) can be seen hanging in doorways and archeological sites.