Kin Bineola and Kin Ya' a Great Houses CLOSED

There is no public access.
Hungo Pavi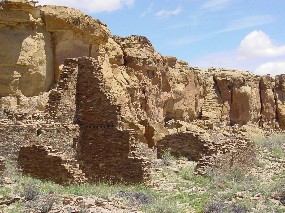 Russ Bodnar
Hungo Pavi
(1/4 mile roundtrip, allow 1/2 hour)
Located 2 miles from the visitor on the 9-mile loop drive. Hungo Pavi is an unexcavated Chacoan great house (monumental public building) containing over 150 rooms, a great kiva, and an enclosed plaza. It is a good example of what Chacoan sites look like without excavations--covered with a protective blanket of wind-blown sand and native vegetation. Travel in small groups to lessen our impacts to this fragile site. You can download a pdf file of the Hungo Pavi trail guide here. (To get the Free Adobe Reader, which is required to read this pdf file, click here.)
Did You Know?
The earliest map of the Chaco region was drawn in 1778 by Spanish cartographer Bernardo de Miera y Pacheco. The map identified Chaco Canyon area as "Chaca." "Chaca" is believed to be the origin of both "Chacra" (a nearby mesa) and "Chaco." More...