Kin Bineola and Kin Ya' a Great Houses CLOSED

There is no public access.
Pueblo Bonito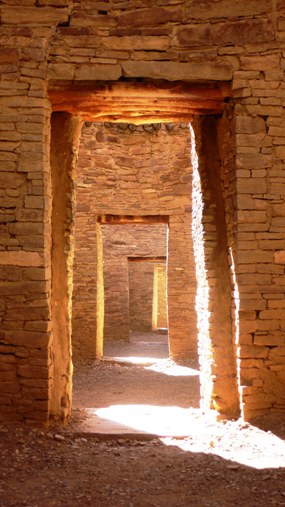 Tanya Ortega de Chamberlain
Pueblo Bonito
(1/2 mile, allow about 45 minutes to an hour)

Located 4 1/2 miles from the visitor center on the 9-mile Canyon Loop Drive. This is the most important site in the canyon and a must for all visitors. The trail through Pueblo Bonito is 0.6 mile, roundtrip. It is graveled, and climbs several short, steep rises. During your visit, you can use the trail guide to recognize several unique characteristics of Chacoan great house architecture and learn about the enduring legacy of Chacoan culture.
Pueblo Bonito is the most thoroughly investigated and celebrated cultural site in Chaco Canyon. Planned and constructed in stages between AD 850 to AD 1150 by ancestral Puebloan peoples, this was the center of the Chacoan world. That world eventually covered a vast area of the present-day Southwest, including the San Juan Basin of New Mexico, and portions of Colorado, Utah, and Arizona. For over 300 years, Chacoan Culture united many diverse peoples within its sphere of influence.
Click to see a wayside exhibits on Pueblo Bonito and Heart of Chaco . (To get the Free Adobe Reader, which is required to read this pdf file, click here.)
Bring water and carry protection from the sun.
Did You Know?

The great kiva at Casa Rinconada is 63 feet in diameter, is almost perfectly round, and is aligned on a north-south axis. Hundreds of people would have participated in ceremonies in such a large and important space. More...