No Access to Kin Bineola

There is currently no access the the Kin Bineola Great House due to road damage.
Prescribed fire scheduled for the week of March 17

Expect smoke in the canyon. The Penasco Blanco trail will be closed beyond the petroglyphs; there will be no access to the great house or the supernova pictograph. The Kin Klizhin area will also be closed during the burn.
Contact Us
By Mail:
P. O. Box 220
Nageezi, NM 87037

By Phone: Visitor Information (505) 786-7014 ext. 221

By Fax: (505) 786-7061


Did You Know?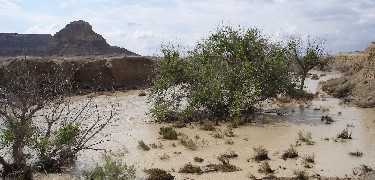 A 20 km segment of Chaco Wash courses through the park. Its flows are derived from summer thunderstorms and winter snowmelt within a 2,175 km2 watershed. The wash is presently incised into a steep-walled arroyo which has a well-developed floodplain and a small inner channel on the arroyo floor.