No Access to Kin Bineola

There is currently no access the the Kin Bineola Great House due to road damage.
Chetro Ketl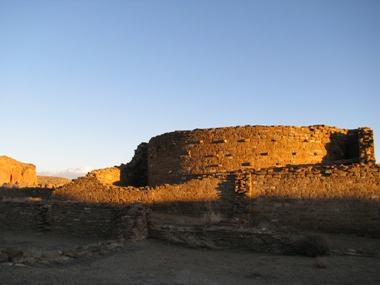 Joseph Guy Kennedy
Chetro Ketl
(1/2 mile, allow about 45 minutes)
Located 4 1/2 miles from the visitor center on the 9-mile Canyon Loop Drive. The trail through Chetro Ketl is ½ mile, roundtrip. It is graveled, and climbs several short, steep rises, so assistance is recommended for people using wheel chairs. When you visit Chetro Ketl, you can use the trail guide to help you recognize characteristics of Chacoan architecture--features that are both typical and unique. Chetro Ketl is the second largest Chacoan great house. It covers more than 3 acres, and contains a great kiva and elevated kivas. As builders constructed second and third stories, they created an elevated plaza that stands 12 feet above the valley floor.
Did You Know?

The park considered a number of ideas for mitigating the damage that would be done if Threatening Rock fell. Proposed solutions included using dynamite to destroy it, anchoring it to the canyon wall with cables, or clearing out the rock debris behind it. It fell on January 22, 1941.