Kin Bineola and Kin Ya' a Great Houses CLOSED

There is no public access.
Reservations required to attend equinox sunrise program

To attend the equinox sunrise program on Monday, September 22 call the visitor center at 505-786-7014. Program will be limited to 100 participants.
Petroglyph Trail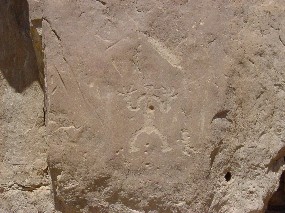 Russ bodnar
Petroglyph Trail
(1/4 mile, allow 30 minutes)
If you are planning on visiting both Pueblo Bonito and Chetro Ketl, you may consider walking along the cliff face between the sites on the Petroglyph Trail. Trail guides are available at both ends of the trail. Take water and travel in small groups to lessen impacts to this fragile area. Bring binoculars to better view the high petroglyphs. Please stay on the designated trail, and do not climb the rocks
Did You Know?

William Henry Jackson; a famous photographer of Western landscapes and railroads visited Chaco Canyon in 1877 with the U.S. Geological Survey. Because he experimented with a new photographic process, all the photos failed. More...