No Access to Kin Bineola

There is currently no access the the Kin Bineola Great House due to road damage.
Petroglyph Trail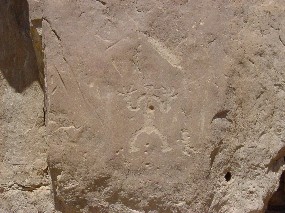 Russ bodnar
Petroglyph Trail
(1/4 mile, allow 30 minutes)
If you are planning on visiting both Pueblo Bonito and Chetro Ketl, you may consider walking along the cliff face between the sites on the Petroglyph Trail. Trail guides are available at both ends of the trail. Take water and travel in small groups to lessen impacts to this fragile area. Bring binoculars to better view the high petroglyphs. Please stay on the designated trail, and do not climb the rocks
Did You Know?

A thousand years ago when Chaco was flourishing, you could hear the loud sounds of sea shell trumpets echoing off the canyon walls. The people traded for conch shells with groups along trade routes that stretched deep into present-day Mexico and the Gulf of California. More...