Kin Bineola and Kin Ya' a Great Houses CLOSED

There is no public access.
Reservations required to attend equinox sunrise program

To attend the equinox sunrise program on Monday, September 22 call the visitor center at 505-786-7014. Program will be limited to 100 participants.
Casa Rinconada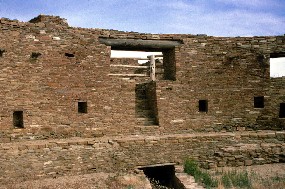 Russ Bodnar
Casa Rinconada and SmallVillages
(1/2 mile, allow 30-45 minutes)
Located 6 miles from the visitor center on the 9-mile Canyon Loop Drive. The trail through Casa Rinconada and the nearby villages is ½ mile long, round trip. It is graveled, and climbs several short, steep rises, so assistance is recommended for people using wheelchairs. When you visit Casa Rinconada, you may use the trail guide to learn about the diverse types of Chacoan architecture and building styles, and the placement of these buildings in the Chacoan world. While the grand public buildings like Pueblo Bonito and Chetro Ketl were in use, smaller, more typical villages existed alongside. This trail will introduce you to the diversity of architecture that existed at the center of Chacoan culture.
Click here to see a wayside exhibit of Casa Rinconada. (To get the Free Adobe Reader, which is required to read this pdf file, click here.)
Bring water and carry protection from the sun.
Did You Know?

Archeologist Patricia Crown discovered evidence of cacao in a cylinder jar from Chaco! This may be the earliest importation and use of cocoa north of where it is grown. Cacao is now processed into chocolate, but the Mayans and (later) the Chacoans may have consumed a bitter beverage. More...