Boat Rides at Great Falls Open for the Season

Boat Rides at Great Falls are Wednesday-Sunday. Call 301-767-3714 for more information.
Paw Paw Tunnel Towpath Open

The rockslide at Paw Paw Tunnel towpath has been cleared. The towpath is now open for hikers and bikers.
Georgetown Boat Rides Suspended

Boat rides at Georgetown are suspended until further notice. For a mule-drawn boat ride please contact Great Falls Tavern.
Great Falls Tavern Visitor Center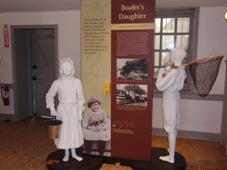 NPS photo
11710 MacArthur Blvd., Potomac, MD 20854 (301-767-3714).
Open year round, Wednesday through Sunday from 9 AM to 4:30 PM. Closed Mondays and Tuesdays.
The Great Falls of the Potomac have drawn people to the river's shore for centuries. To Native Americans it was a gathering place, to George Washington it was an impediment to navigation, to thousands of visitors every year it is an awe-inspiring site. Tourists have been drawn to the Great Falls of the Potomac long before there was a canal. The Great Falls Tavern carries on a long tradition of hospitality for visitors to the C&O Canal. Soon after the canal's ground breaking in 1828 construction began on the original lockhouse. In response to travelers' requests for shelter and a meal, the locktender here at Great Falls, W.W. Fenlon, asked the Canal Company to build the three-story north wing for a hotel. Proposing himself as innkeeper but adding, "Mrs. Felon is better calculated for Land Ladie," he wrote. The hotel opened for business in 1831. The entrance door invited guests into a large, windowed room with fireplaces and a bar. As the inn's first proprietor Mr. Fenlon presided over lively entertainment like fishing parties, dances and social events in the "ballroom," in addition to good dinners and a place to sleep. A community of over 100 people grew nearby with shops and a post office. The National Park Service offers interpretive programs year round and boat rides in the spring, summer and early fall. Please call the visitor center for information at 301-767-3714.
Variable ALIGNMENT is undefined.


Did You Know?
Most freight boats on the C&O Canal were approximately 95 feet long and 14.5 feet wide while most locks were 100 feet long and 15 feet wide.  This left boat captains little margin for error as they steered their boats into the locks, trying to avoid the $5.00 fine for damaging lock masonry.