Wilderness Information and Permits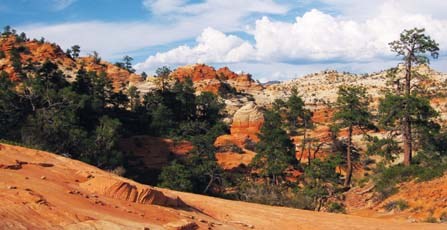 "Wilderness is not a luxury, but a necessity of the human spirit."
- Edward Abbey
The Zion Wilderness is a spectacular network of colorful canyons, forested mesas, and striking deserts. In 2009, over 124,000 acres of Zion National Park was designated as wilderness. This designation will ensure that 84% of the park will continue to be a place where nature and its "community of life are untrammeled by man, a place where man himself is a visitor who does not remain."
What is Wilderness?
Wilderness is a rare, wild place where one can retreat from civilization, reconnect with nature, and find healing, meaning and significance. Knowledge, respect, and understanding for these wild and undeveloped places will ensure that they remain spectacular for years to come. Learn more about the establishment of wilderness in Zion, about NPS wilderness, or about wilderness in America at the interagency site: www.wilderness.net.
Wilderness Permits:
A Zion Wilderness Permit is required for overnight backpacking trips, all canyoneering trips, overnight climbing bivouacs, and river trips.
The purpose of the Wilderness Permit is to protect resources, manage visitor encounter rates and campsite use, and educate users on safety concerns and resource protection.
Wilderness Permits do not provide a safety net for park visitors. Visitors are responsible for their personal safety, making informed decisions and managing individual and group behavior in the Wilderness environment.
Learn more about the various way to get a Wilderness Permit.
Increasing Visitation and Permit Availability
As visitation to Zion has increased dramatically, so has interest in the wilderness, and demand for wilderness permits. More people are venturing into the wilderness on day hikes, and many more are attempting to obtain permits for backpacking and canyoneering. There are only so many backpacking sites, and limits are in place for the total number of people allowed per day in each canyon.

Visitors wanting to backpack or descend a canyon should be flexible in their planning--your first, and even second, choices may be unavailable. At busy times of year, all permits may be taken, leaving none for people who show up at the Wilderness Desk without a reservation.

Download the 2020 Zion Wilderness Guide
Download the Zion Wilderness Map
Download Wilderness Desk Handouts
Guided Trips in the Wilderness
Structured and/or formally guided activities facilitated by educational, commercial, or like organizations are authorized to occur on frontcountry trails. Such activities are not authorized to take place in park wilderness/back-country areas (Primitive and Pristine Zones).
Last updated: September 24, 2020