Canyoneering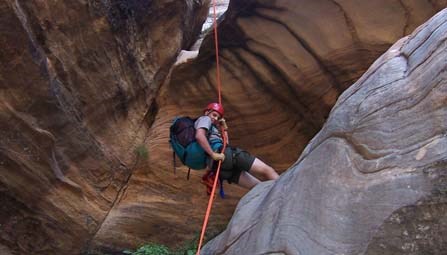 Canyoneering is an outdoor activity that combines route finding, rappelling, problem solving, swimming, and hiking. Zion National Park has become one of the premier places in the country to participate in this exciting activity.
A permit is required for all technical canyoneering trips. With dozens of different canyons to explore, some barely wide enough for a human to squeeze through, the park offers opportunities that range from trips for beginners to experiences requiring advanced technical skills.
A short trip into the lower end of The Narrows above the Temple of Sinawava is an outstanding way to receive an introduction to the slot canyons of the park. For those with expertise and experience, The Subway and Orderville Canyon offer opportunities for route finding, swimming, and short rappels.

Over 124,400 acres of Zion are designated wilderness. Please help preserve and protect these beautiful areas for future generations by practicing your leave no trace principles and following park regulations. For more information, visit www.wilderness.net.

Make sure you are familiar with the
Canyoneering Regulations
.

Canyoneers may need to utilize the
Wilderness Transportation
options.
Last updated: September 24, 2020