Climbing
CLICK HERE to download the new 2021 Climbing Guide to Seasonal Raptor Closures with all closure boundaries
Zion National Park's 2,000-foot sandstone cliffs are world renowned for their big wall climbs and adventurous nature. Most routes in the park are not recommended for inexperienced climbers due to difficulty and the soft nature of the rock. While areas outside of the park offer abundant sport climbing and top roping possibilities, this is rare in the park, with bolted routes often having sparse protection.

The best conditions for climbing are from March through May and September through early November. Temperatures in the summer can soar over 100 degrees even on shaded walls. Additionally, summer months often bring monsoonal rainstorms. Unlike other rock types, desert sandstone is heavily weakened when wet. Avoid climbing in damp areas or after rainstorms. It often takes two or more days for the rock to be dry enough to climb. This means that critical holds are more likely to break, altering routes for future climbers. Additionally, climbing protection is less likely to hold resulting in greater fall distances and chance of injury. A collection of a climber-submitted topos can be found at the Wilderness Desk at the Zion Canyon Visitor Center. The park suggests submitting topos of all first ascents in the park upon completion. This helps future generations locate climbs and provides a historical account of climbing in Zion National Park.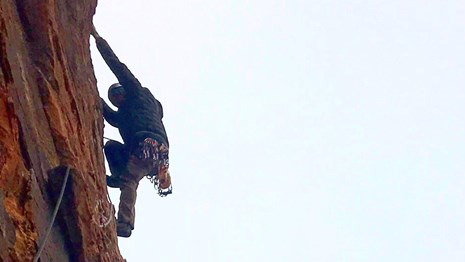 Seasonal Climbing Closures
Many routes and walls in Zion are closed every year beginning March 1 to protect native raptors. Find out which walls are closed here.
Good Climbing Practices
Help keep Zion beautiful by following these best practices while climbing.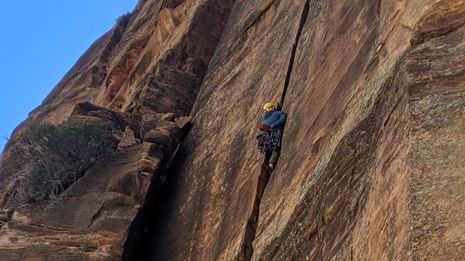 Climbing Regulations
Regulations around climbing in Zion, including guiding, bolting, establishment of new routes, and bivying.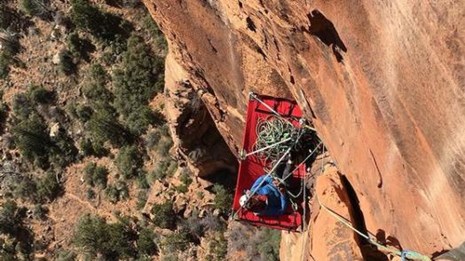 Climbing Bivy Permits
Bivy permits are required for all overnight climbs in Zion National Park. Permits are not required for day climbs.

Read about park specific
Climbing Regulations
and recommendations.

Climbers may need to utilize the
Wilderness Transportation
options.
Last updated: June 7, 2021